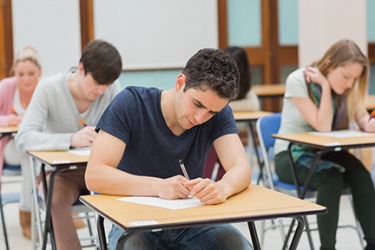 The teacher positioned the desks far apart for the test in order to prevent cheating.
verb
Prevent is defined as to stop something from happening.

An example of prevent is to seat students a couple of desks away from one another to stop them from copying each other's responses on an exam.
---
prevent
Obs.

to act in anticipation of (an event or a fixed time)
to anticipate (a need, objection, etc.)
to precede

to stop or keep (from doing something)
to keep from happening; make impossible by prior action; hinder
Origin of prevent
Middle English
preventen
from Classical Latin
praeventus
, past participle of
praevenire
, to anticipate from
prae-
, before (see pre-) +
venire
, to come
---
prevent
verb
pre·vent·ed, pre·vent·ing, pre·vents
verb
transitive
To keep from happening; avert: took steps to prevent the strike.
To keep (a person or thing) from doing something; impede: prevented us from winning; prevented the disease from spreading.
Archaic

a. To anticipate or counter in advance.

b. To come before; precede.
verb
intransitive
To present an obstacle: There will be a picnic if nothing prevents.
Origin of prevent
Middle English
preventen
to anticipate
from
Latin
praevenīre
praevent-
prae-
pre-
venīre
to come
; see
gwā-
in Indo-European roots.
Related Forms:
pre·vent′a·bil′i·ty pre·vent′i·bil′i·ty

noun
pre·vent′a·ble pre·vent′i·ble

adjective
---
prevent

Verb
(third-person singular simple present prevents, present participle preventing, simple past and past participle prevented)
To stop; to keep (from happening). [from 16th c.]

I brushed my teeth to prevent them from going yellow.

(intransitive, now rare) To take preventative measures. [from 16th c.]
Book of Common Prayer

We pray thee that thy grace may always prevent and follow us.

Prior

Then had I come, preventing Sheba's queen.
Origin
From Middle English preventen ("anticipate"), from Latin praeventus, perfect passive participle of praeveniō ("anticipate"), from prae ("before") + veniō ("come").
---