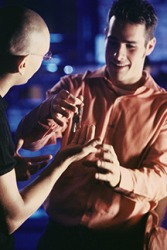 In order to preclude a possibly dangerous driving situation, Mitchell handed his car keys over to his friend.
verb
Preclude is defined as to prevent something from happening or to prevent someone from doing something.

An example of preclude is when you take someone's keys away so that they cannot drive.
---
preclude
transitive verb
-·clud′ed

,

-·clud′ing
to make impossible, esp. in advance; shut out; prevent
Origin of preclude
Classical Latin
praecludere
, to shut off from
prae-
, before (see pre-) +
claudere
, to close
---
preclude
transitive verb
pre·clud·ed, pre·clud·ing, pre·cludes
To make impossible, as by action taken in advance; prevent. See Synonyms at prevent.
To exclude or prevent (someone) from a given condition or activity: Modesty precludes me from accepting the honor.
Origin of preclude
Latin
praeclūdere
prae-
pre-
claudere
to close
Related Forms:
---
preclude

Verb
(third-person singular simple present precludes, present participle precluding, simple past and past participle precluded)
Remove the possibility of; rule out; prevent or exclude; to make impossible.

It has been raining for days, but that doesn't preclude the possibility that the skies will clear by this afternoon!
---