election

e·lec·tion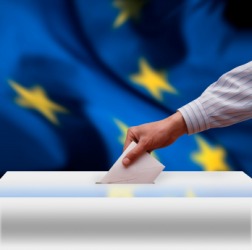 A man casts his vote during an election.
noun
The definition of an election is a choice, particularly a voting.

An example of an election is a town's voting for the new mayor.
An example of an election is selecting a new health care provider.
---
election
a choosing or choice

a choosing or being chosen for office by vote
a voting, as in a municipality, on some proposition, issue, etc.

Theol.

the selection by God of certain people for salvation and eternal life
Origin of election
Middle English
eleccioun
from Old French
election
from Classical Latin
electio
, a choice, in LL(Ec), the election of believers: see elect
---
election
noun
a. The act or process of electing someone to fill an office or position: Officers are chosen by election and not by appointment.

b. An instance of this: Did you vote in this election?

c. The fact of being elected: her election to the Senate.

An act of choosing; a selection: your election of benefits.
Predestined salvation, especially as conceived by Calvinists.
---
election

Origin
From Anglo-Norman eleccioun, from Latin election-, stem of electio ("choice, selection"), from ēligō ("I pluck out, I choose").
See also:
élection
---
election - Legal Definition
n
The process by which an individual is chosen to occupy a public office, or, in some cases, a private one (such as a director serving on a corporate board); in litigation, the making of a choice among remedies, whereby the selection of one may preclude the use of others; in estate law, a choice between inheriting under a will, and pursuing a legal remedy other than as provided in the will. See also
elective share
.
---