poll

poll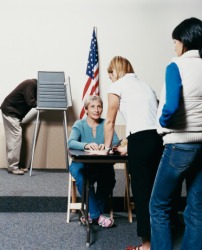 People standing in a line waiting to vote at a polling station
noun
The definition of a poll is a counting or voting, or a place where people vote.

An example of a poll is a research survey.
An example of a poll is a place where people go to vote during an election.
verb
Poll is defined as to cast and gather a vote, or to survey people.

An example of poll is to ask each member of the jury how they voted.
An example of poll is to ask 1,000 people about their level of education.
---
poll
the head; esp., the crown, back, or hair of the head
an individual person, esp. one among several
a counting, listing, or register of persons, esp. of voters
a voting or expression of opinion by individuals
the amount of voting; number of votes recorded
[pl.] a place where votes are cast and recorded

a canvassing of a selected or random group of people to collect information, or to attempt to discover public opinion
a report or record of the results of this

the blunt or flat end, as of an ax
Origin of poll
Middle English
pol
from or akin to MDu, top of the head, head
to cut off or cut short
to cut off or trim the wool, hair, horns, or branches of; specif., to pollard (a tree)

to take or register the votes of: to poll a county
to require each member of (a jury, committee, etc.) to declare his or her vote individually

to receive (a specified number or proportion of votes)
to cast (a vote)
to canvass in a poll (sense )
---
poll
noun
The casting and registering of votes in an election.
The number of votes cast or recorded.
polls

a. The places where votes are cast and registered during an election, considered as a group: The polls close in this state at 8:00.

b. A place where votes are cast and registered: I went to the polls before work to cast a vote.

A survey of the public or of a sample of public opinion to acquire information.
The head, especially the top of the head where hair grows.
The blunt or broad end of a tool such as a hammer or axe.
verb
polled, poll·ing, polls
verb
transitive
To receive (a given number of votes).
To receive or record the votes of: polling a jury.
To cast (a vote or ballot).
To question in a survey; canvass.
To cut off or trim (hair, horns, or wool, for example); clip.
To trim or cut off the hair, wool, branches, or horns of: polled the sheep; polled the trees.
verb
intransitive
To vote at the polls in an election.
Origin of poll
Middle English
pol
head
from
Middle Low German
or
Middle Dutch
Related Forms:
---
poll

Noun
(plural polls)
An election or a survey of a particular group of people.

The student council had a poll to see what people want served in the cafeteria.

A number or aggregate of heads; a list or register of individuals, especially electors.
Hair
The head, especially its top part.
Verb
(third-person singular simple present polls, present participle polling, simple past and past participle polled)
To take, record the votes of (an electorate).
To solicit mock votes from (a person or group).
To register or deposit, as a vote; to elicit or call forth, as votes or voters.

He polled a hundred votes more than his opponent.

To cut off; to remove by clipping, shearing, etc.; to mow or crop.

to poll the hair; to poll wool; to poll grass

To cut the hair of (a creature).
To remove the horns of (an animal).
To remove the top or end of; to clip; to lop.

to poll a tree

(computing, communication) To (repeatedly) request the status of something (such as a computer or printer on a network).

The network hub polled the department's computers to determine which ones could still respond.

(intransitive, with adverb) To be judged in a poll.
To impose a tax upon.
To pay as one's personal tax.
To enter, as polls or persons, in a list or register; to enroll, especially for purposes of taxation; to enumerate one by one.
(law) To cut or shave smooth or even; to cut in a straight line without indentation.

a polled deed
Origin
From Middle English pol, polle ("head, hair of the head, list"; > Anglo-Norman poll ("list")), from Middle Low German pol, poll ("head") or Middle Dutch pol, pōle, polle ("head, top"), both from Proto-Germanic *pullaz ("round object, head, top"), from Proto-Indo-European *bolno-, *bōwl- ("orb, round object, bubble"), from Proto-Indo-European *bew- ("to blow, swell"). Akin to Scots pow ("head, crown, skalp, skull"), Eastern Frisian pol ("round, full, brimming"), Low German polle ("head, tree-top, bulb"), Danish puld ("crown of a hat"), Swedish dialectal pull ("head"). Meaning "collection of votes" is first recorded 1625, from notion of "counting heads".
Noun
(plural polls)
A pet parrot.
Origin
Perhaps a shortening of Polly, a common name for pet parrots.
Noun
(plural polls)
(UK, dated, Cambridge University) One who does not try for honors at university, but is content to take a degree merely; a passman.
Origin
From Ancient Greek [script?] (polloi, "the many, the masses")
---