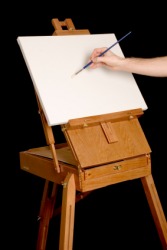 An artist begins to paint on a canvas.
noun
The definition of a canvas is a surface you paint on that is often made from tightly stretched unbleached cloth or a closely woven fabric that is often used to make boat sail, purses and upholstery.

An example of a canvas is a surface on which you do an oil painting.
An example of a canvas is an oil painting that has been completed.
An example of canvas is a material from which a purse is made.
---
canvas
a closely woven, coarse cloth of hemp, cotton, or linen, often unbleached, used for tents, sails, etc.
a sail or set of sails

a specially prepared piece of canvas on which an oil painting is made
such a painting

a tent or group of tents, as of a circus
any coarse cloth of open mesh weave on which embroidery or tapestry is done
Origin of canvas
Middle English and Old French
canevas
from Italian
canavaccio
from Vulgar Latin an unverified form
cannapaceum
, hempen cloth from Classical Latin
cannabis
, hemp
the canvas
the canvas-covered floor of a boxing ring
under canvas
in tents
with sails unfurled
by means of sails
---
canvas
noun
A heavy, coarse, closely woven fabric of cotton, hemp, or flax, traditionally used for tents and sails.

a. A piece of such fabric on which a painting, especially an oil painting, is executed.

b. A painting executed on such fabric.

A fabric of coarse open weave, used as a foundation for needlework.
The background against which events unfold, as in a historical narrative: a grim portrait of despair against the bright canvas of the postwar economy.
Nautical A sail or set of sails.

a. A tent or group of tents.

b. A circus tent.

Sports The floor of a ring in which boxing or wrestling takes place.
Origin of canvas
Middle English
canevas
from
Old French
and from
Medieval Latin
canavāsium
both ultimately from
Latin
cannabis
hemp
; see
cannabis
.
---
canvas

Noun
(plural canvasses or canvases) (see usage notes)
A type of coarse cloth, woven from hemp, useful for making sails and tents or as a surface for paintings.
A piece of canvas cloth stretched across a frame on which one may paint.
A basis for creative work.

The author takes rural midwestern life as a canvas for a series of tightly woven character studies.

(nautical) sails in general
A tent.

He spent the night under canvas.

A painting, or a picture on canvas.

A rough draft or model of a song, air, or other literary or musical composition; especially one to show a poet the measure of the verses he is to make.

Alternative spelling of canvass.
Usage notes
The plural canvases is used primarily in the US, while the plural canvasses is used in the UK and most UK-influenced areas.
Verb
(third-person singular simple present canvases, present participle canvasing, simple past and past participle canvased)
To cover an area or object with canvas.
Alternative spelling of canvass.
Origin
From Anglo-Norman, from Old Northern French canevas (compare Old French chanevas, chenevas) from a root ultimately derived from Latin cannabis, possibly a Vulgar Latin *cannabāceus or *cannapāceus. Cf. French canevas, resulting from a blend of the Old French and a Picard dialect word, itself from Old Northern French.
---
canvas - Computer Definition
(1) A major feature of HTML5. See canvas element.
(2) In an image editing or paint program, the canvas is the window in which the picture is created or edited. It is the on-screen counterpart of the cloth canvas used by an artist. See paint program.
(3) (Canvas) A technical drawing, image editing and page layout program for Windows and the Mac from ACD Systems International, Inc., Victoria, British Columbia (www.acdsystems.com). Acquired from Deneba Software in 2003, ACD's Canvas combines numerous illustration (vector graphics) and image editing tools (bitmapped graphics) in one application. It also includes presentation graphics capabilities for producing on-screen slide shows. Specific versions have been created for GIS mapping, scientific imaging and the professional design engineering market.
---