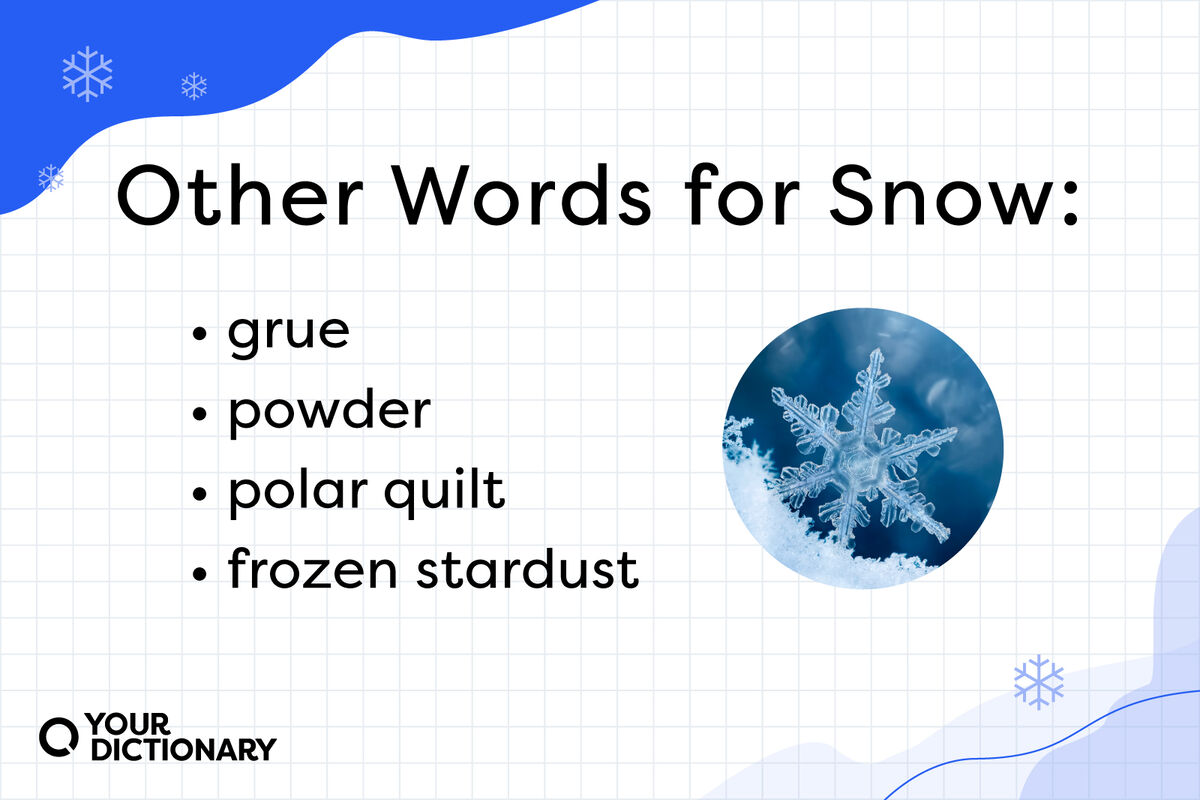 The word snow brings different pictures to mind, depending on where you live. Those who live in warmer climates may imagine snow as a soft, white blanket, draped lovingly over a winter neighborhood. But people who are well-acquainted with snow may picture walls of ice, dagger-like icicles, and wild, slippery roads instead. What does snow bring to mind for you — and are there more descriptive words for it than one four-letter word?
Other Words for "Snow" in Writing
The English word snow comes from the Latin word nix and the Old English word snāw.
But when you're writing about a beautiful winter scene in a short story, poem, or novel, the word snow doesn't always cut it. Use these fun winter words and phrases to describe a picturesque layer of frozen condensation.
cold crystals
cotton cloud
frosty paradise
frozen canvas
frozen fluff
frozen stardust
lacy blanket
lacy tablecloth
polar quilt
powdered gems
sparkling white blanket
white blanket
white crystals
winter wonderland
winter's wooly blanket
wintry quilt
Adjectives To Describe Snow
If you're looking for words that describe snow, try these cold adjectives out in your writing instead.
arctic
biting
bright
cloud-soft
crystalline
dappled
diamond-dotted
flaky
flecked
fluffy
frosty
frozen
ice-white
icy
opaque
powdery
sparkling
soft
solid
Other Words for Different Types of Snow
Not all snow is created equal. Some snow is fluffy and fun; other snow is wet and muddy. How can you describe the differences between the many types of snow with weather words? Several weather words (and a sprinkling of snowboarder slang) can help you out.
| | |
| --- | --- |
| Weather Term | Meaning |
| chowder | ski slang for a combination of snow that's been chopped up by skis and powder |
| corn snow | snow that becomes granulated by repeatedly freezing, melting, then refreezing |
| cornice | a mass of ice and snow that forms an overhang |
| crust | a hard layer of snow on top of a softer layer |
| drift | a hill of snow blown into place by wind |
| finger drift | narrow, fingerlike drifts of snow that stretch across roads |
| flurry | snowflakes that fall intermittently without accumulating on the ground |
| frost | frozen water droplets |
| frozen water vapor | water that condenses to ice without first going into a liquid state |
| graupel | similar to hail but smaller and less hard |
| grue | thin floating snow |
| hoarfrost | feathery frost that has frozen into long grains |
| lake effect snow | snow that forms when below freezing air goes over one of the Great Lakes, which are warmer than the air |
| new snow | fresh snow accumulation in which individual crystals of ice are visible |
| névé | partially compacted snow that is almost glacial ice |
| old snow | snow that has been accumulated long enough so that individual crystals of ice are not visible |
| perennial | snow that stays accumulated on the ground for longer than a year |
| pillow drift | an expansive snowdrift that stretches across a road |
| pow pow | snowboarder slang for super-fresh fluffy powder; the ultimate snow for skiing |
| powder | snow with fresh ice crystals that are still loose |
| skift | light dusting of snow |
| sleet | snow and rain mixed together |
| slush | watery snow that has started to melt |
| smud | slang for melting snow with mud mixed in |
| snice | slang for snow and ice |
| snirt | slang for melting snow with dirt mixed in |
| sposh | accumulated snow that has started to melt and become slushy |
| winter fluff | fluffy, delightful snow |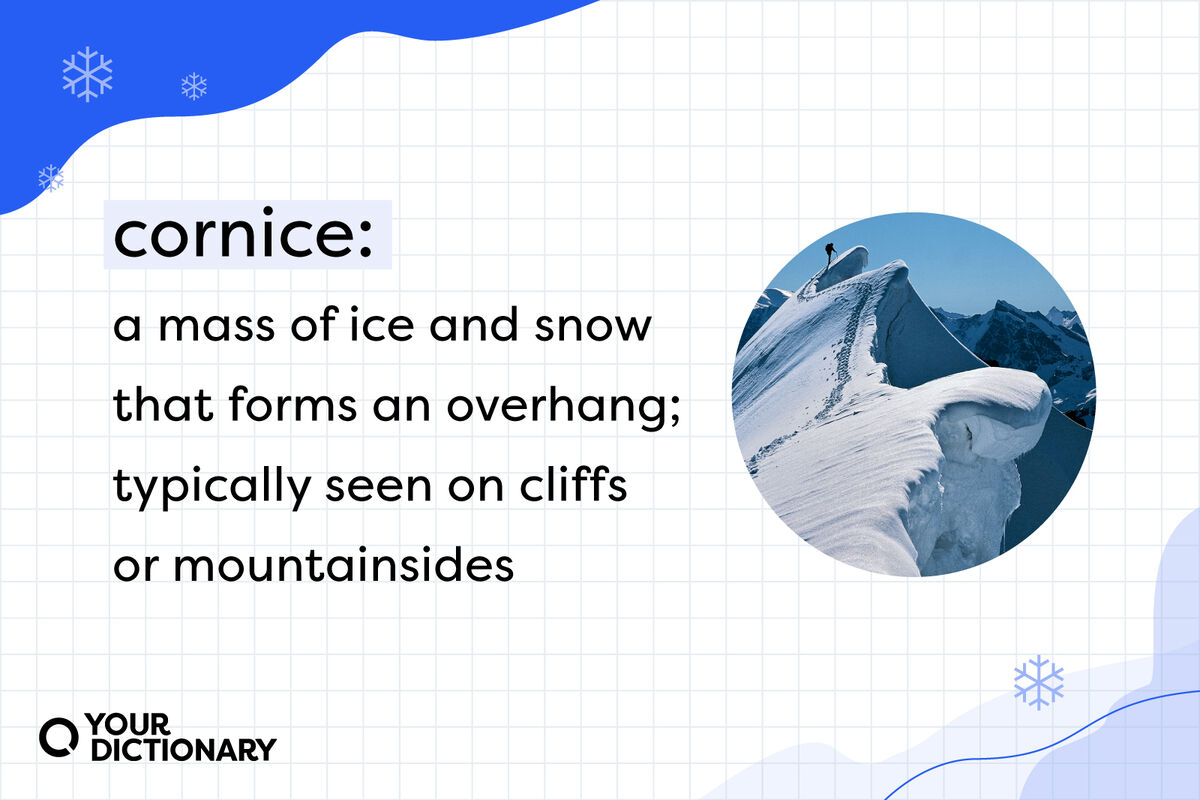 Terms for Snowy Weather and Conditions
What's the difference between a blizzard and a snow squall? Knowing the difference could possibly save your life (in a real way, not a grammar way).
| | |
| --- | --- |
| Weather Term | Meaning |
| avalanche | conditions in which a mass of accumulated snow rapidly falls down a mountain or other slope |
| blizzard | a strong, lengthy snowstorm in windy conditions that causes low visibility; typically lasts for three hours or longer, with winds above 35 miles per hour |
| ground blizzard | a winter storm with no new snowfall, but accumulated snow is lifted up and blown around by the wind |
| firnification | process by which snow becomes névé (partially compacted) |
| onding | heavy snowfall, but not quite a blizzard |
| snowmageddon | slang for severe weather involving snow; combines snow and Armageddon |
| snowpocalypse | slang for a severe snow weather event; combines snow and apocalypse |
| snow shower | light or moderate snowfall that lasts for a brief period of time with some accumulation |
| snow squall | a heavy snow shower accompanied by strong winds (much shorter and less severe than a blizzard) |
| snowy | weather conditions in which snow is falling, whether continuously or sporadically |
| thundersnow | thunder and lightning accompanied by snowfall (instead of rain) |
| whiteout | snowy conditions so extreme that visibility is reduced nearly to zero |
| winter storm | involves snowfall of six inches within 12 hours, eight inches within 24 hours, or an accumulation of six inches of sleet |
| winter weather | blowing snow, significant accumulation (below the winter storm threshold) or some combination of freezing rain, sleet, or snow |
| wintry mix | a mixture of falling snow, ice, and rain |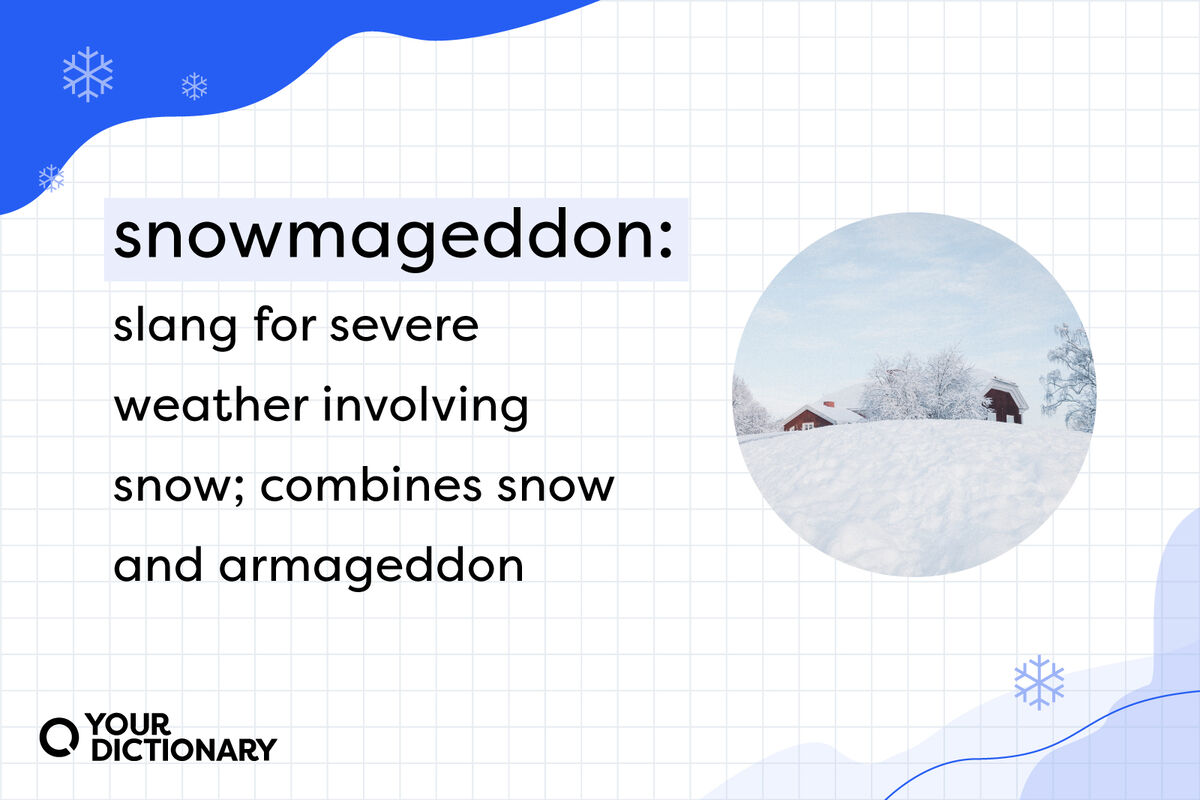 Words for "Snow" in Other Languages
Every language has its own word for snow — and in cultures that live in snowy parts of the world, they have many words for snow.
| | | |
| --- | --- | --- |
| Language | Word for Snow | Pronunciation |
| Cherokee | unatsi | (uh-nuh-tsee) |
| Chinese | xuě (雪) | (sheh) |
| Czech | sníh | (sneeh) |
| Dutch | sneeuw | (sneh-ew) |
| French | neige | (neej) |
| German | schnee | (shnee) |
| Greek | χιόνι | (sho-nee) |
| Icelandic | snjór | (shnoh) |
| Inuktitut | qanik (falling snow) | (kun-nik) |
| Inuktitut | aputi (snow on the ground) | (ah-puh-tee) |
| Japanese | yuki (雪) | (yoo-kee) |
| Norwegian | snø | (snuh) |
| Spanish | nieve | (nee-eh-veh) |
| Swedish | snö | (snuh) |
Winter Words (and Spring, and Fall, and Summer)
There's more to snow than those four letters — and there's more to nature than the coldest time of the year. After you've described your peaceful winter scene, move on to the other seasons with nature words that describe the beauty of Earth.