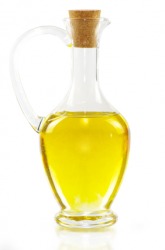 This olive oil can be used in salads.
noun
Oil is a slippery liquid that comes from minerals as well as animal and vegetable fat.

An example of oil is petroleum from beneath the earth
An example of oil is what you'd mix with vinegar for a salad dressing.
An example of oil is what cooks use for frying food.
verb
Oil is defined as to grease something or make something slippery or smooth.

An example of oil is applying a lubricant to a bike chain.
An example of oil is putting lotion on someones feet before rubbing them.
---
oil
any of various kinds of greasy, combustible substances obtained from animal, vegetable, and mineral sources: oils are liquid at ordinary temperatures and soluble in certain organic solvents, as ether, but not in water
petroleum
any of various substances having the consistency of oil

oil paint
oil painting

Informal

smooth, hypocritical flattery
Origin of oil
Middle English
oile
from Old French from Classical Latin
oleum,
oil, olive oil from Classical Greek
elaion,
(olive) oil, akin to
elaia,
olive
to smear, lubricate, or supply with oil
to bribe: chiefly in oil the palm (or hand) of
of, from, like, or yielding oil, or having to do with the production or use of oil
pour oil on troubled waters
to settle quarrels, differences, etc. by calm, soothing methods
strike oil
to discover oil under the ground by drilling a shaft for it
to become suddenly wealthy
---
oil
noun
Any of numerous mineral, vegetable, or synthetic substances or animal or vegetable fats that are generally slippery, combustible, viscous, liquid or liquefiable at room temperatures, soluble in various organic solvents such as ether but not in water, and used in a great variety of products, especially lubricants and fuels.

a. Petroleum.

b. A petroleum derivative, such as a machine oil or lubricant.

A protective or cosmetic liquid applied to the skin or hair.
Oil paint.
A painting done in oil paint.
transitive verb
oiled, oil·ing, oils
To lubricate, supply, cover, or polish with oil.
Origin of oil
Middle English
from
Old French
oile
from
Latin
oleum
olive oil
from
Greek
elaiwon, elaion
from
elaiwā, elaiā
olive
---
oil

Noun
(countable and uncountable, plural oils)
An oil painting.
Verb
(third-person singular simple present oils, present participle oiling, simple past and past participle oiled)
To lubricate with oil.
Origin
Middle English oile ("olive oil"), from Anglo-Norman olie, from Latin oleum ("oil, olive oil"), from Ancient Greek ἔλαιον (elaion, "olive oil"), from ἐλαία (elaía, "olive"). More at olive. Supplanted Old English æle, also from Latin.
---