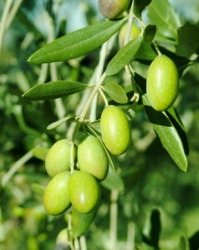 Green olives on an olive tree.
noun
An olive is a small yellow-green fruit, usually eaten cured. Olives are often used as garnishes on drinks or food. The tree on which the olive grows is also known as olive.

Please put an extra olive in my martini.
---
olive
an evergreen tree (Olea europaea) of the olive family, native to S Europe and the Near East, with leathery leaves, yellow flowers, and an edible fruit
the small, oval fruit of this tree, cured when either green or ripe to be eaten as a relish, or pressed to extract olive oil

the wood of this tree
any of various plants resembling the olive
an olive branch or wreath
the dull, yellowish-green color of the unripe olive fruit
olive green
Origin of olive
Old French from Classical Latin
oliva
from Classical Greek
elaia
of the olive

olive-colored
having a dark complexion tinged with this color

designating a family (Oleaceae, order Scrophulariales) of dicotyledonous trees and shrubs with loose clusters of four-parted flowers, including the ashes, lilacs, jasmines, and forsythias
Olive
a feminine name: var. Olivia
Origin of Olive
from Middle English
oliva
from L, and olive
---
olive
noun
a. A widely cultivated evergreen tree (Olea europaea) native to the Mediterranean region, having fragrant white flowers, gray-green lance-shaped leathery leaves, and edible fruit with oil-rich flesh surrounding a hard stone.

b. The small oval fruit of this tree, usually changing in color from green to black as it ripens, used for food and as a source of oil.

c. Any of various similar or related plants, such as the Russian olive.

A yellow green of low to medium lightness and low to moderate saturation.
Origin of olive
Middle English
from
Latin
olīva
from
Greek
elaiwā, elaiā
Related Forms:
---
olive

---