fat
[

fat

]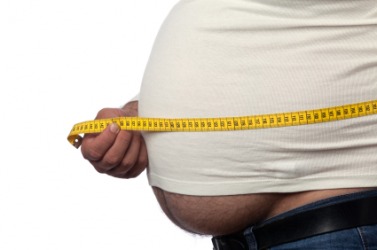 A man measures his fat belly.
adjective
The definition of fat is plump, obese or containing grease or oil.

An example of fat is the nature of a 500 pound person.
An example of fat is the nature of greasy french fries.
noun
Fat is defined as the semisolid or solid fatty acids found in animal tissue.

An example of fat is the greasy, white substance found on the edges and inside the meat on a piece of steak.
---
fat
adjective
fatter, fattest
containing or full of fat; oily; greasy
having much fat in relation to lean: said of meat
containing volatile oil: fat coal
containing much resin: fat wood

fleshy; plump
too plump; corpulent; obese

thick; broad: the fat part of the bat
containing something valuable in great quantity; fertile; productive: fat land
profitable; lucrative: a fat job
prosperous
supplied plentifully; ample
stupid; dull

Slang

desirable because large or important: a fat role for an actor
Origin of fat
Middle English ; from Old English
fætt
, past participle of
fætan
, to fatten, akin to German
feist
, plump ; from Old High German
feizzen
, to make fat ; from Indo-European an unverified form
poid-
; from base an unverified form
pi-
, to be fat, distended from source Classical Greek
pimelē
, lard, Sanskrit
pīná-
, fat
noun
any of various mixtures of solid or semisolid triglycerides found in adipose animal tissue or in the seeds of plants: they are insoluble in water but soluble in organic solvents
any such substance used in cooking
fleshiness; plumpness; corpulence
the richest or finest part of anything
anything unnecessary or superfluous that can be trimmed away

Chem.

a class of neutral lipids consisting of the various triglycerides: they are called oils if in the liquid state
a fat chance
☆
Slang
very little or no chance
a fat lot
Slang
very little or nothing
chew the fat
Slang
to talk together; chat
live off (or on) the fat of the land
Origin of fat
after LL(Ec)
medulla terrae
, Gen. 45:18
to have, use, or enjoy the finest things, in abundance; live in luxury
the fat is in the fire
the unfortunate thing has happened and cannot be undone
---
fat
noun
a. The ester of glycerol and one, two, or three fatty acids.

b. Any of various soft, solid, or semisolid organic compounds constituting the esters of glycerol and fatty acids and their associated organic groups.

c. A mixture of such compounds occurring widely in organic tissue, especially in the adipose tissue of animals and in the seeds, nuts, and fruits of plants.

d. Animal tissue containing such substances.

e. A solidified animal or vegetable oil.

Obesity; corpulence: health risks associated with fat.
Unnecessary excess: "would drain the appropriation's fat without cutting into education's muscle" (New York Times).
adjective
fat·ter
,
fat·test
Having much or too much fat or flesh; plump or obese.
Full of fat or oil; greasy.
Abounding in desirable elements: a paycheck fat with bonus money.
Fertile or productive; rich: "It was a fine, green, fat landscape" (Robert Louis Stevenson).
Having an abundance or amplitude; well-stocked: a fat larder.

a. Yielding profit or plenty; lucrative or rewarding: a fat promotion.

b. Prosperous; wealthy: grew fat on illegal profits.

a. Thick; large: a fat book.

b. Puffed up; swollen: a fat lip.
tr. & intr.v.
fat·ted
,
fat·ting
,
fats
To make or become fat; fatten.
Origin of fat
Middle English, from Old English
f&aemac;tt
,
fatted
; see
pei&schwa;-
in Indo-European roots.
Related Forms:
---
fat
---
fat - Computer Definition
(File Allocation Table) The mechanism that keeps track of files stored on disk in the FAT file system, which originated in DOS and was used in Windows prior to the NTFS file system. However, the FAT32 format is widely used with external devices for compatibility on all platforms (see FAT32). The FAT Table When a disk is high-level formatted, the FAT table is recorded twice and contains an entry for each cluster on the disk. The file system's directory list, which contains file name, extension, date, etc., points to the FAT entry where the file starts. If a file is larger than one cluster, the first FAT entry points to the next FAT entry where the second cluster of the file is stored and so on to the end of the file. If a cluster becomes damaged, its FAT entry is marked as such, and that cluster is never used again. The original 16-bit version of (FAT16) supported hard disk partitions up to 4GB and files as large as 2GB. The 32-bit version dramatically increased capacity. See FAT32, NTFS, inode and file system.
---