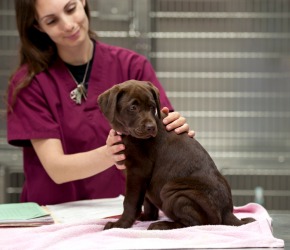 A little dog at the vet.
noun
Vet is short for a veterinarian (a doctor who takes care of animals) or short for a veteran (a person who has served as a soldier).

An example of a vet is a person you take your dog to when he is sick.
An example of a vet is a person who fought in the Iraq war.
---
vet
transitive verb
vet′ted

,

vet′ting
to examine or treat as a veterinarian does
to examine, investigate, or evaluate in a thorough or expert way
to work as a veterinarian
veteran
veterinarian
veterinary
---
vet
Informal
noun
A veterinarian.
verb
vet·ted, vet·ting, vets
verb
transitive
To subject to veterinary evaluation, examination, medication, or surgery.
To subject to thorough examination or evaluation: vet a manuscript.
verb
intransitive
To engage in the practice of veterinary medicine.
---
vet

Noun
(plural vets)
(colloquial) A veterinarian or veterinary surgeon.
Noun
(plural vets)
(colloquial) A veteran (a former soldier or other member of an armed forces).
Usage notes
Although veteran can be used in many contexts such as sports or business to describe someone with many years of experience, vet is usually used only for former military personnel.
Verb
(third-person singular simple present vets, present participle vetting, simple past and past participle vetted)
To thoroughly check or investigate particularly with regard to providing formal approval.

The FBI vets all nominees to the Federal bench.
Origin
possibly by analogy from Etymology 1, in the sense of "verifying the soundness [of an animal]"
Abbreviations
(law) Veteran, as used in case citations in the United States.
See also:
vet
---