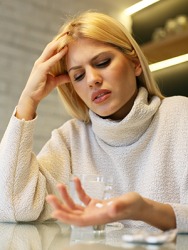 Nicole took a pain reliever because she had a slight headache.
adjective
The definition of slight is a small amount or someone that is fragile or has little weight or substance.

An example of slight used as an adjective is a slight sunburn which is a small amount of sunburn.
An example of slight used as an adjective is the phrase slight build which is a very thin person.
---
slight
light in form or build; not stout or heavy; slender
frail; fragile

having little weight, strength, substance, or significance: a slight criticism
small in amount or extent; not great or intense: a slight fever
Origin of slight
Middle English (northern dialect, dialectal )
sliht
from OE, kin to Old High German
sleht
, straight, smooth: for Indo-European base see slick
to do carelessly or poorly; neglect
to treat with disrespect or indifference; be discourteous toward
to treat as unimportant
a slighting or being slighted by pointedly indifferent, disrespectful, or supercilious treatment
---
slight
adjective
slight·er, slight·est
Small in size, degree, or amount: a slight tilt; a slight surplus.
Lacking strength, substance, or solidity; frail: a slight foundation; slight evidence.
Of small importance or consideration; trifling: slight matters.
Small and slender in build or construction; delicate.
transitive verb
slight·ed, slight·ing, slights
To treat (someone) with discourteous reserve or inattention: "the occasional feeling of being slighted at others' underestimating my charms and talents" ( Joseph Epstein )
To treat as of small importance; make light of: "If I have … slighted the contributions of my many predecessors, let me offer a blanket apology" ( Joseph J. Ellis )
To do negligently or thoughtlessly; scant: "It is a proper question to ask of an assignment whether some of its parts might be omitted or slighted" ( Stanley Fish )
To raze or level the walls of (a castle or other fortification).
noun
A deliberate discourtesy; a snub: "She got into the car, thinking how sensitive men are to slights from women and how insensitive to slights to women" ( Marge Piercy )
Origin of slight
Middle English
slender, smooth
possibly of Scandinavian origin
; see
lei-
in Indo-European roots.
Related Forms:
---
slight

---