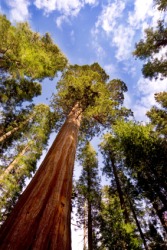 Very tall trees.
adjective
The definition of tall is more than average height or stature, or something that is hard to believe.

An example of someone tall is a woman who measures 6'0".
An example of something tall is a tall tale, an exaggerated tale that is untrue.
adverb
Tall is defined as in a dignified manner.

An example of tall used as an adverb is in the phrase "walk tall," which means to walk with pride.
---
tall
of more than normal height or stature: a tall man, a tall building
having a specified height: five feet tall

Informal

hard to believe because exaggerated or untrue

Informal

large; of considerable size: a tall drink

Informal

high-flown; pompously eloquent: tall talk

Obs.

handsome
brave
Origin of tall
Middle English
tal,
dexterous, seemly from Old English
(ge)tæl,
swift, prompt, akin to Old High German
gizal,
swift from Indo-European base an unverified form
del-,
to aim from source tale, tell
in an upright, dignified manner: to stand tall, ride tall in the saddle
---
tall
adjective
tall·er, tall·est
a. Having greater than ordinary height: a tall woman.

b. Having considerable height, especially in relation to width; lofty: tall trees.

Having a specified height: a plant three feet tall.
Informal Fanciful or exaggerated; boastful: tall tales of heroic exploits.
Impressively great or difficult: a tall order to fill.
Obsolete Excellent; fine.
adverb
With proud bearing; straight: stand tall.
Origin of tall
Middle English
brave, quick
from
Old English
getæl
swift
; see
del-
2
in Indo-European roots.
Related Forms:
---
tall

Adjective
(comparative taller, superlative tallest)
(of a person) Having a vertical extent greater than the average. For example, somebody with a height of over 6 feet would generally be considered to be tall.

Being tall is an advantage in basketball.

(of a building, etc.) Having its top a long way up; having a great vertical (often greater than horizontal) extent; high.
(of a story) Hard to believe, such as a tall story or a tall tale.
(chiefly US, of a cup of coffee) A cup of coffee smaller than grande, usually 8 ounces.
Origin
From Middle English tall, talle, tal ("seemly, becoming, excellent, good, valiant, bold, great"), from Old English *tæl, Ä¡etæl ("swift, ready, having mastery of"), from Proto-Germanic *talaz ("submissive, pliable"), from Proto-Indo-European *dol-, *del- ("to aim, calculate, adjust, reckon"). Cognate with Scots tal ("high, lofty, tall"), Old Frisian tel ("swift"), Old Saxon gital ("quick"), Old High German gizal ("active, agile"), Gothic 𐌿𐌽𐍄𐌰𐌻𐍃 (untals, "indocile, disobedient").
See also:
tal
---