adjective
The definition of little is small in size, quantity or importance.

An example of little used as an adjective is the phrase a "little cat" which means a cat below the normal size.
adverb
Little is defined as only slightly or not much.

An example of little used as an adverb is the phrase "working little" which means not getting a decent amount of work.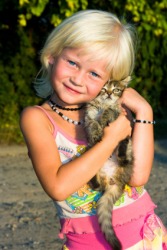 A little girl with a little cat.
---
little definition by Webster's New World
adjective
littler or less or lesser, littlest or least
small in size; not big, large, or great
small in amount, number, or degree; not much
short in duration or distance; brief; not long
small in importance or power: the rights of the little man
small in force, intensity, etc.; weak
trivial; trifling
lacking in breadth of vision; narrow-minded; illiberal: a little mind
young: said of children or animals
younger: her little brother
Origin: Middle English littel ; from Old English lytel (akin to German dialect, dialectal lützel) ; from base of lyt, small (; from Indo-European base an unverified form leud-, to stoop from source Welsh lludded, fatigue), influenced, influence by Old Norse litill, small (akin to Gothic leitils) ; from Indo-European base an unverified form lei-, to decline, be lean from source less
adverb
less, least
in a small degree; to a slight extent; only slightly; not much
not in the least: he little suspects the plot
noun
small amount, degree, etc.: often used with a and having adverbial force: a little crazy
not much: little will be done about it

a short time or distance
Webster's New World College Dictionary Copyright © 2010 by Wiley Publishing, Inc., Cleveland, Ohio. Used by arrangement with John Wiley & Sons, Inc.
---
little definition by American Heritage Dictionary
adjective
lit·tler
or
less
also
less·er
,
lit·tlest
or
least
Small in size: a little dining room. See Synonyms at small.
Short in extent or duration; brief: There is little time left.
Small in quantity or degree: little money.
Unimportant; trivial: a little matter.
Narrow; petty: mean little comments; a little mind consumed with trivia.
Without much power or influence; of minor status.

a. Being at an early stage of growth; young: a little child.

b. Younger or youngest. Used especially of a sibling: My little brother is leaving for college next week.
adverb
less
less
or
lesser
,
least
least
Not much; scarcely: works long hours, sleeping little.
Not in the least; not at all: They little expected such a generous gift.
noun
A small quantity or amount: Give me a little.
Something much less than all: I know little of their history.
A short distance or time: a little down the road; waited a little.
Origin: Middle English, from Old English lȳtel.
Related Forms:
The American Heritage® Dictionary of the English Language, 4th edition Copyright © 2010 by Houghton Mifflin Harcourt Publishing Company. Published by Houghton Mifflin Harcourt Publishing Company. All rights reserved.
---
little - Phrases/Idioms
in little
on a small scale; in miniature
little by little
by slow degrees or small amounts; gradually
make little of
to treat as not very important; depreciate
some little
rather extensive; fairly full
a little
Somewhat; a bit:
felt a little better.
little by little
By small degrees or increments; gradually.