frigid

frig·id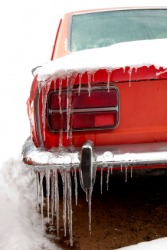 Icicles hang from a car on a frigid day.
adjective
The definition of frigid is someone or something very cold or formal.

An example of frigid is an outdoor temperature of below freezing.
---
frigid
extremely cold; without heat or warmth
without warmth of feeling or manner; stiff and formal
habitually failing to become sexually aroused, or abnormally repelled by sexual activity: said of a woman
Origin of frigid
Middle English from Classical Latin
frigidus
from
frigere
, to be cold from
frigus
, coldness, frost from Indo-European base an unverified form
sr?g-
, coldness from source Classical Greek
rhigos
, frost
---
frigid
adjective
Extremely cold. See Synonyms at cold.
Lacking warmth of feeling.
Stiff and formal in manner: a frigid refusal to a request.
Showing little or no enthusiasm: Scientists gave the new theory a frigid reception.
Often Offensive Lacking sexual desire or unwilling to engage in sexual activity. Used especially of women.
Origin of frigid
Latin
frīgidus
cold
from
frīgus
the cold
Related Forms:
fri·gid′i·ty frig′id·ness

noun
---
frigid

Adjective
(comparative more frigid, superlative most frigid)
(colloquial) Sexually unresponsive, especially of a woman.
Origin
From Latin frīgidus ("cold"), from frīgeō ("I am cold"), from frigus ("cold, coldness"), from Proto-Indo-European *sriges-, *sriHges-.
---