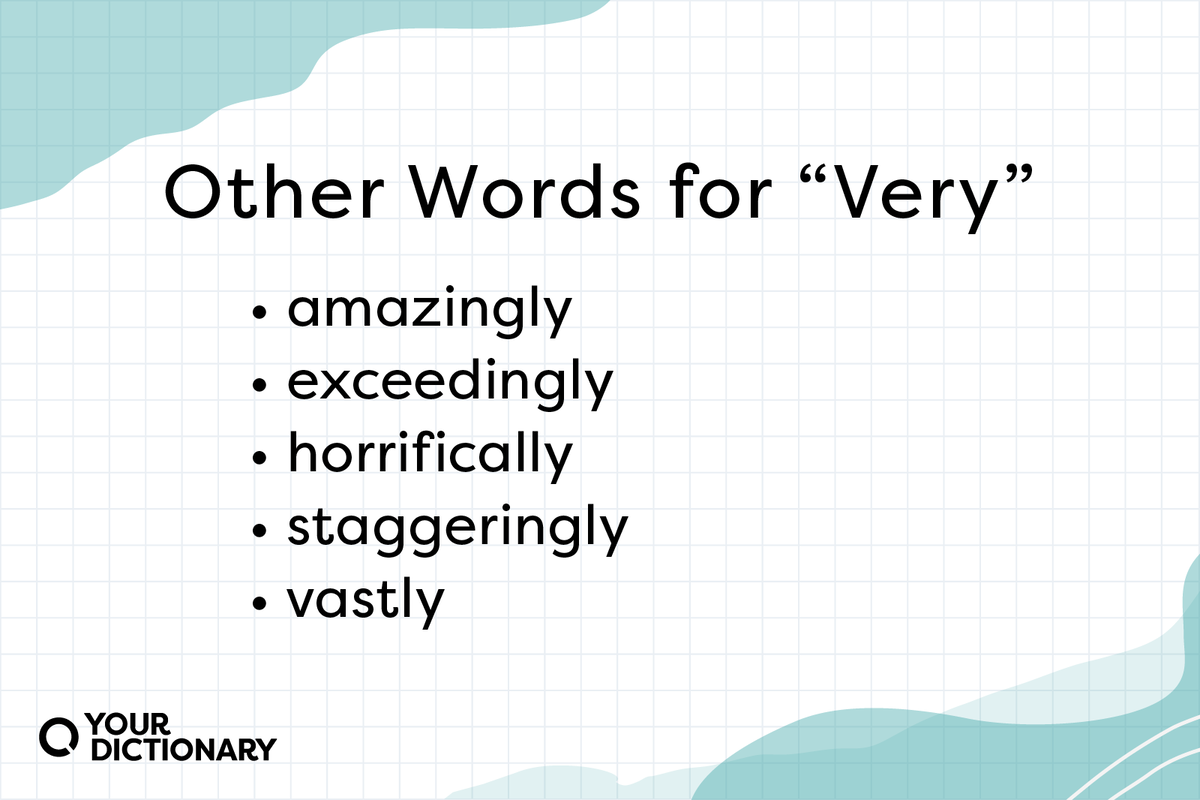 The word very, while useful, is overused and inexact, even when paired with another word. You can make your writing stronger by reducing the frequency that you use phrases that begin with the word very and replace them with some more unique and specific options below instead.
General Synonyms for "Very"
There are several words that function as general synonyms for very. They can be paired with other words to form a descriptive phrase.
amazingly
awfully
decidedly
enormously
exceedingly
exceptionally
excessively
extraordinarily
extremely
horrifically
immensely
incredibly
majorly
massively
overly
staggeringly
supremely
terrifically
tremendously
vastly
Alternatives for the Phrase "Very Angry"
The word very is often used in front of the term angry. To spice it up, try one of these words or phrases instead of saying "very angry."
enraged
furious
incensed
livid
outraged
seething
Fast Fact
In this phrase (and many mentioned below), very is used as an adverb to describe an adjective. Very adds to the intensity of the adjective you are using.
Other Ways To Say "Very Bad"
Sometimes the word bad doesn't convey just how "not good" something really is. One of these other ways to say "very bad" just might get the point across a bit better.
abominable
awful
horrible
terrible
Fast Fact
Very can also be used as an adjective to describe a noun. This isn't as common as its adverb form though.
When I opened the front door, I saw the very cat my neighbor had reported as lost.
Reading his poem touched my very soul.
Words To Use Instead of "Very Beautiful"
The word beautiful is more intense than pretty, but sometimes it's still not sufficient to capture the degree of beauty you're trying to describe. These words go beyond beautiful.
exquisite
gorgeous
lovely
ravishing
stunning
Synonyms for "Very Big" or "Very Large"
When describing something that is very big or large in size, there are a number of appropriate one-word alternatives.
colossal
enormous
huge
humongous
gigantic
massive
More Ways To Say "Very Boring"
When something is beyond boring, the least you can do is find a more interesting description than the phrase "very boring."
dull
mind-numbing
pedantic
tedious
tiresome
Other Ways To Say "Very Bright"
For an even more specific description of your smart friend or the literally bright sun, opt for one of these synonyms for "very bright."
brilliant
dazzling
glowing
luminous
radiant
Other Ways To Say "Very Smart"
When you're describing a person or an idea as very smart, you might want to use one of the phrases below.
astute
brilliant
highly intelligent
knowledgeable
supersmart
Alternatives To "Very Careful"
When someone takes carefulness to a high level, the individual can be described as "very careful." One of the following words might describe that person a little bit better though.
cautious
fastidious
hesitant
painstaking
risk-averse
There is clean and then there is beyond clean. Consider these words when you're looking for an unambiguous way to describe something as "very clean."
gleaming
immaculate
pristine
spic and span
spotless
Other Words for "Very Clear"
When there is little room for doubt, the phrase "very clear" may work. However, you may want to instead use one of the options below.
apparent
clear as a bell
crystal clear
evident
glaring
obvious
There are varying degrees of cold, from a slight chill to "very cold" to an extreme degree. Consider one of these options to explain the degree you're going for.
arctic
frosty
ice-cold
freezing
frigid
Alternate Wording for "Very Easy"
If something isn't difficult, it's easy. Sometimes it's so simple that you need to clarify that it's easier than easy. Rather than describing something as "very easy," consider one of the terms below.
effortless
painless
super-simple
uncomplicated
undemanding
Other Ways To Say "Very Exciting"
Some things are a little bit exciting while others are very exciting. Discover single words to convey the upper bounds of that spectrum.
breathtaking
electrifying
exhilarating
intoxicating
mind-blowing
thrilling
Alternatives To "Very Fast"
When you're looking to express that something is happening very fast or occurring very quickly, consider one of these terms.
expeditiously
hasty
quickly
rapidly
speedy
whirlwind
If something is more than just good, it's not unusual to describe it as "very good." Or you could use one of the following words.
amazing
excellent
outstanding
stupendous
superb
More Ways To Say "Very Happy"
Are you looking for a way to express extreme happiness? The words below are good alternatives to simply stating that you're very happy.
delighted
ecstatic
overjoyed
tickled
thrilled
Alternatives for "Very Hot"
Sometimes the temperature is so hot that describing it that way just doesn't get the point across. Consider these options instead.
blistering
broiling
burning
stifling
sweltering
torrid
Other Ways To Say "Very Much"
When you're searching for an alternative to the phrase "very much," one of the terms below may be exactly what you need.
abundantly
badly
copiously
greatly
hugely
Alternate Wording for "Very Quiet"
When a sound is so soft that it's below the threshold of "very quiet," it may be appropriate to use one of the following terms.
barely audible
faint
hushed
muffled
muted
Alternatives To "Very Short"
When something occurs for only a very short period of time, there are a number of words that can convey your precise meaning.
brief
fleeting
hasty
short-lived
transient
Short is one way that a person or object could be very small. Or try one of the following words to precisely communicate what you mean by small.
microscopic
minuscule
petite
teensy-weensy
tiny
Alternative Words for "Very Strong"
The phrase "very strong" could be used to describe physical strength, a strong belief or opinion, or a scent. Choose an appropriate synonym.
fervent
forceful
powerful
pungent
resolute
unwavering
vehement
Other Words for "Very Tired"
When you're so tired that it's hard to find a word to accurately convey just how very tired you are, consider one of these options.
bone-tired
exhausted
fatigued
pooped
weary
worn out
Alternatives for "Very Poor"
When describing a circumstance in which a person lacks funds to an extreme degree, use one of these words. 
broke
destitute
impoverished
needy
penniless
Are you looking for a more sophisticated way to say "very ugly"? Consider one of these synonyms.
grotesque
gruesome
hideous
horrible-looking
revolting
unsightly
Other Ways To Say "Very Weak"
When a person lacks strength to an extreme degree, the individual can be described as "very weak." There are several suitable synonyms for this phrase too.
delicate
feeble
frail
infirm
powerless
List of Words To Use Instead of "Very"
Want a handy guide that lists alternatives to the word very?
Print or save this easy-to-use printable list below. That way, you'll have an abbreviated collection of solutions at your fingertips whenever you need it.