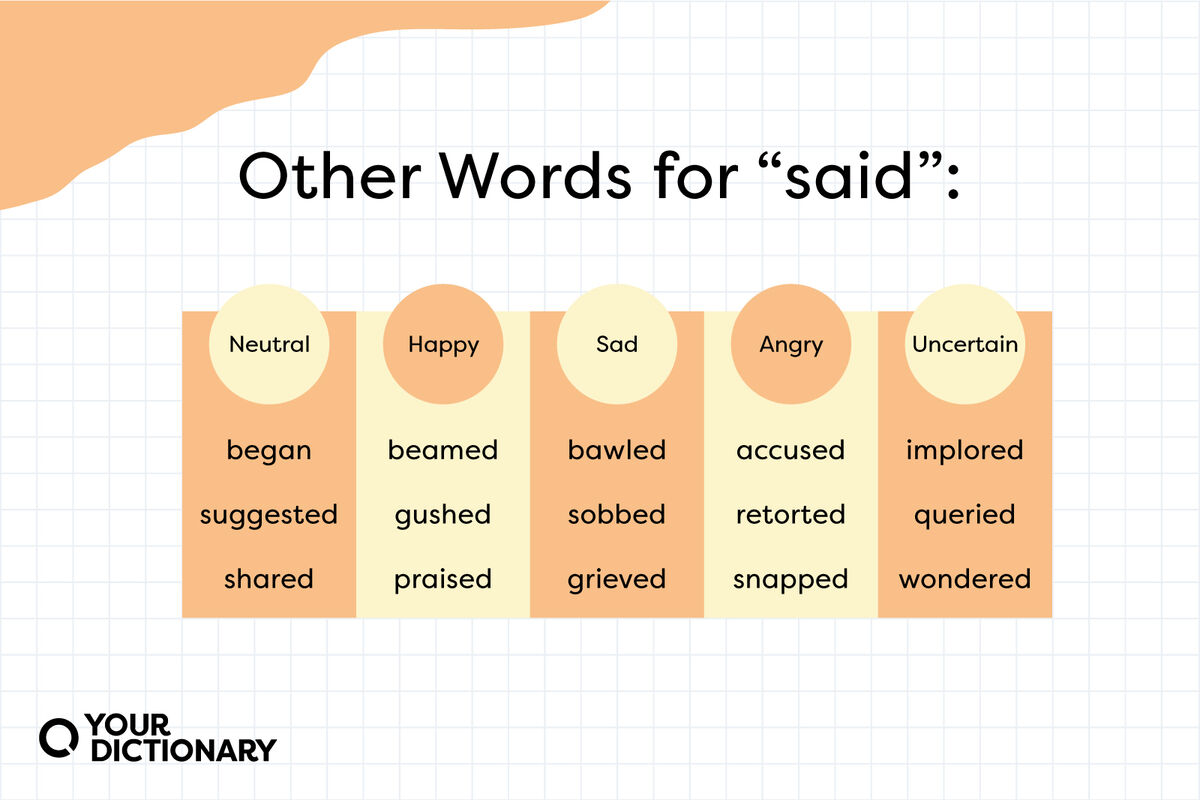 If you're writing a story, you probably want your characters to talk to each other at some point. (Characters like to do that). But can you avoid the overused word said when describing their conversation? Absolutely you can — and your readers (as well as your characters) will thank you for it.
How To Replace "Said" as a Dialogue Tag
Dialogue tags are those verbs that come after a quotation in a sentence. Usually, the verb is said (because someone just said something). But replacing said can change the entire tone of the dialogue — and it can make your writing more precise.
"No one likes your apple pie," said Doris. (Neutral tone)
"No one likes your apple pie," asserted Doris. (Confident tone)
"No one likes your apple pie," whispered Doris. (Quiet tone)
"No one likes your apple pie!" snapped Doris. (Angry tone)
"No one likes your apple pie," teased Doris. (Mean tone)
"No one likes your apple pie," sobbed Doris. (Sad tone)
"No one likes your apple pie?" asked Doris. (Questioning tone)
Note that changing a dialogue tag can even change the punctuation of the quote. When said becomes snapped, you add an exclamation point to the quote — and when said becomes asked, you add a question mark.
List of Synonyms for "Said"
Synonyms for said help you avoid repetition and make your writing more interesting. A list of said synonyms for a neutral tone could include:
advised
announced
asserted
began
chimed in
claimed
commented
concluded
contended
continued
explained
expressed
hinted
imparted
implied
jabbered
noted
observed
put forth
remarked
replied
revealed
shared
spoke up
stated
suggested
uttered
voiced
volunteered
went on
Note: All synonyms are in the past tense, just like said. If you're writing in the present tense, you'll need to put these words into the present tense, like says.
"Said" Synonyms for Speaking Quietly
Said (and the synonyms above) are really for those moments when characters are speaking with a normal, neutral tone. But what about those moments when they need to be quieter — either to keep a secret or to hide from the monster in the next room?
breathed
grumbled
hissed
mumbled
murmured
muttered
purred
sighed
whispered
"Said" Synonyms for Speaking Loudly
The monster is here — now you've got to scare it away, or loudly warn your companions! Choose from the many options for louder ways to say said, depending on how urgent (or angry) your character feels.
bellowed
blurted
cried
hollered
howled
roared
screamed
screeched
shouted
shrieked
squawked
thundered
wailed
yelled
yelped
Other Words for "Said" by Emotion
Dialogue doesn't have to be neutral, quiet, or loud to get the point across. The English language is rife with synonyms for said that address any emotion a character may feel, whether it's joy, despair, or curiosity.
Another Word for "Said" That Shows Happiness
Using certain words can convey affection, from romantic love to parental care. If you want to give this emotional impression, try one of these sympathetic synonyms for said.
admired
beamed
comforted
consoled
empathized
gushed
invited
praised
proclaimed
professed
reassured
soothed
Another Word for "Said" That Shows Sadness
Just because characters feel sad doesn't mean they don't want to talk. In fact, characters often sob, lament, and snivel their way through a sad conversation.
bawled
begged
blubbered
cried
grieved
lamented
mewled
mourned
pleaded
sniffled
sniveled
sobbed
wailed
wept
whimpered
Another Word for "Said" That Shows Anger
What happens when you want your character's fury to seep out of their words? Use these synonyms for said for those key moments of anger.
accused
bristled
criticized
cursed
demanded
erupted
fumed
growled
lied
mocked
nagged
provoked
remonstrated
retorted
scolded
seethed
snapped
spat
swore
taunted
teased
Another Word for "Said" That Shows Fear
How do you convey that a character is very afraid without directly stating "He was afraid"? Use synonyms for said that show various levels of fear.
cautioned
faltered
gasped
quaked
quavered
stammered
stuttered
trembled
warned
Another Word for "Said" That Shows Excitement
If you're nice to your characters, they will show their happiness in loud, exuberant ways. So how do you replace said in those moments?
beamed
cheered
cried out
crowed
exclaimed
gushed
rejoiced
sang
trumpeted
Words To Use Instead of "Said" To Show Uncertainty or Questioning
When a character isn't stating something, they're asking it — but is there another word for asked, too? You're in luck. Asked isn't your only alternative to said when your characters want to know an answer.
entreated
implored
inquired
persuaded
petitioned
queried
questioned
quizzed
requested
speculated
supposed
wondered
Repetition Is Boring — Yes, We "Said" It
Now that your characters have a bit more to do than simply saying something, it's time to explore other words you can replace. You may be surprised to find how often you use these common words — and how replacing them can immediately improve your writing.