raw

raw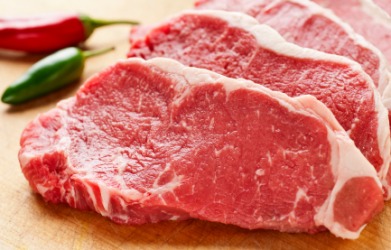 Three raw steaks.
adjective
The definition of raw is uncooked, in natural condition or not processed.

An example of something raw is a piece of uncooked steak.
adverb
Raw is a slang term that is defined as unprotected sex.

An example of raw used as an adjective is the phrase "raw making love" which means having sex without a condom or birth control.
---
raw
not cooked
in its natural condition; not changed by art, dilution, manufacture, aging, etc.: raw wool, raw whiskey
not processed, edited, interpreted, etc.: raw data
not yet processed, cleaned, etc. as by chemical treatment; untreated: raw sewage
inexperienced; not yet developed or trained: a raw recruit
with the skin rubbed or torn off; sore and inflamed: a raw cut
uncomfortably cold and damp; bleak: a raw wind

brutal or coarse in frankness
indecent; bawdy

Informal

harsh or unfair: a raw deal
Origin of raw
Middle English
rawe
from Old English
hreaw,
akin to German
roh
from Indo-European base an unverified form
kreu-,
clotted blood, bloody flesh from source Classical Latin
crusta,
literally , congealed blood: see crude, cruel
Rare
a raw or inflamed spot on the body
in the raw
in the natural state; without cultivation, refinement, etc.
naked; nude
---
raw
adjective
raw·er, raw·est
a. Uncooked: raw meat.

b. Being in a natural condition; not processed or refined: raw wool.

c. Not finished, covered, or coated: raw wood.

d. Not having been subjected to adjustment, treatment, or analysis: raw data; the raw cost of production.

e. Undeveloped or unused: raw land.

f. Recently finished; fresh: raw plaster.

Inexperienced or untrained: a raw youth; raw recruits.

a. Having subcutaneous tissue exposed: a raw wound.

b. Inflamed; sore: a raw throat.

Unpleasantly damp and chilly: raw weather.

a. Powerfully impressive; stark: raw beauty; raw talent.

b. Direct in description and explicit in realistic detail: the film's raw depiction of urban poverty.

c. Crude, vulgar, or coarse: raw language.

Nude; naked: was standing there raw.

a. Engaged in without the protection of a condom.

b. Done in a rough or unrestrained manner. Used of sex.
adverb
Slang Without a condom; unprotected.
Origin of raw
Middle English
rau
from
Old English
hrēaw
; see
kreuə-
in Indo-European roots.
Related Forms:
---
raw

---
raw - Computer Definition
---