adjective
The definition of green is having the color between blue and yellow on the color spectrum or being good for the environment.

An example of something green is grass.
An example of green used as an adjective is a green action, such as recycling.
noun
Green is defined as a color between blue and yellow on the color spectrum.

An example of green is the color of grass.
verb
To green is defined as to become the color between blue and yellow.

An example of to green is for dying grass to get its life back.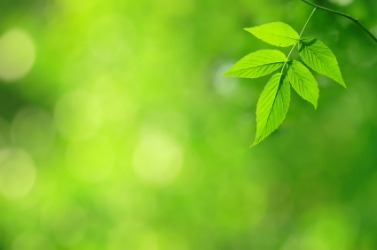 A green leaf against a green background.
---
Green definition by Webster's New World
adjective
of the color that is characteristic of growing grass

overspread with or characterized by green plants or foliage: a green field
made of green-leaved vegetables: green salad

keeping the green grass of summer; without snow; mild: a green December
sickly or bilious, as from illness, fear, etc.

flourishing; active: to keep someone's memory green
of the time of one's youth: the green years

not mature; unripe: green bananas
not trained; inexperienced
easily led or deceived; simple; naive
not dried, seasoned, or cured; unprocessed: green lumber
fresh; new

of, relating to, or advocating ecological awareness, the preservation of natural resources, etc.: green politics
designating or of a political party or movement having these goals

Origin: see green-eyed

Informal

jealous
Origin: Middle English grene ; from Old English akin to German grün, Dutch groen: for Indo-European base see grow
noun
the color of growing grass; any color between blue and yellow in the spectrum: green can be produced by blending blue and yellow pigments
any green pigment or dye
anything colored green, as clothing
green leaves, branches, etc., used for ornamentation
green leafy plants or vegetables eaten cooked or raw, as spinach, lettuce, etc.
an area of smooth turf set aside for special purposes: a village green
an environmentalist; specif., a member of an environmentalist political party
☆

Slang

money, esp. paper money: chiefly in and

Golf

the plot of carefully tended turf immediately surrounding each of the holes to facilitate putting
transitive verb
,
intransitive verb
to make or become green
Green, Henry (pseud. of Henry Vincent Yorke) 1905-73; Eng. novelist

Green, John Richard 1837-83; Eng. historian

Green, Paul (Eliot) 1894-1981; U.S. playwright

Green, William 1873-1952; U.S. labor leader
river flowing from W Wyo. south into the Colorado River in SE Utah: 730 mi (1,175 km)
Webster's New World College Dictionary Copyright © 2010 by Wiley Publishing, Inc., Cleveland, Ohio. Used by arrangement with John Wiley & Sons, Inc.
---
Green definition by American Heritage Dictionary
noun
The hue of that portion of the visible spectrum lying between yellow and blue, evoked in the human observer by radiant energy with wavelengths of approximately 490 to 570 nanometers; any of a group of colors that may vary in lightness and saturation and whose hue is that of the emerald or somewhat less yellow than that of growing grass; one of the additive or light primaries; one of the psychological primary hues.
Something green in color.
greens Green growth or foliage, especially:

a. The branches and leaves of plants used for decoration.

b. Leafy plants or plant parts eaten as vegetables.

A grassy lawn or plot, especially:

a. A grassy area located usually at the center of a city or town and set aside for common use; a common.

b. Sports A putting green.

greens A green uniform: "a young . . . sergeant in dress greens" (Nelson DeMille).
Slang Money.
Green A supporter of a social and political movement that espouses global environmental protection, bioregionalism, social responsibility, and nonviolence.
adjective
green·er
,
green·est
Of the color green.
Abounding in or covered with green growth or foliage: the green woods.
Made with green or leafy vegetables: a green salad.
Characterized by mild or temperate weather: a green climate.
Youthful; vigorous: at the green age of 18.
Not mature or ripe; young: green tomatoes.
Brand-new; fresh.
Not yet fully processed, especially:

a. Not aged: green wood.

b. Not cured or tanned: green pelts.

Lacking training or experience. See Synonyms at young.

a. Lacking sophistication or worldly experience; naive.

b. Easily duped or deceived; gullible.

Having a sickly or unhealthy pallor indicative of nausea or jealousy, for example.

a. Beneficial to the environment: green recycling policies.

b. Favoring or supporting environmentalism: green legislators who strengthened pollution controls.
tr. & intr.v.
greened
,
green·ing
,
greens
To make or become green.
Origin: Middle English grene, from Old English grēne; see ghrē- in Indo-European roots. N., sense 7 translation of German (die) Grünen, (the) Greens, from grün, green.
Related Forms:
, William 1873-1952.
American labor leader who as president of the American Federation of Labor (1924-1952) led the struggle with the Congress of Industrial Organizations after the two unions split (1936).
The American Heritage® Dictionary of the English Language, 4th edition Copyright © 2010 by Houghton Mifflin Harcourt Publishing Company. Published by Houghton Mifflin Harcourt Publishing Company. All rights reserved.
---
green - Computer Definition
Energy efficient. Environmentally friendly. The term is applied to systems and products that save energy directly or indirectly. For example, capturing rainwater saves the energy required to pump the water from a well and also lessens flooding and other runoff problems. Products that are built with recycled materials or are more compact, more energy efficient and less wasteful of materials in general than their previous models are often labeled green. The green concept includes using less packaging materials, recycling toner cartridges and providing a return location for used batteries. Switching from paper manuals to electronic manuals is also green. See green PC, green datacenter and green building.
Computer Desktop EncyclopediaTHIS DEFINITION IS FOR PERSONAL USE ONLYAll other reproduction is strictly prohibited without permission from the publisher.© 1981-2014 The Computer Language Company Inc. All rights reserved.
---
green - Phrases/Idioms
around
green
/about
the gills
Pale or sickly in appearance.
Green
Variant of green
adjective
of the color that is characteristic of growing grass

overspread with or characterized by green plants or foliage: a green field
made of green-leaved vegetables: green salad

keeping the green grass of summer; without snow; mild: a green December
sickly or bilious, as from illness, fear, etc.

flourishing; active: to keep someone's memory green
of the time of one's youth: the green years

not mature; unripe: green bananas
not trained; inexperienced
easily led or deceived; simple; naive
not dried, seasoned, or cured; unprocessed: green lumber
fresh; new

of, relating to, or advocating ecological awareness, the preservation of natural resources, etc.: green politics
designating or of a political party or movement having these goals

Origin: see green-eyed

Informal

jealous
Origin: Middle English grene ; from Old English akin to German grün, Dutch groen: for Indo-European base see grow
noun
the color of growing grass; any color between blue and yellow in the spectrum: green can be produced by blending blue and yellow pigments
any green pigment or dye
anything colored green, as clothing
green leaves, branches, etc., used for ornamentation
green leafy plants or vegetables eaten cooked or raw, as spinach, lettuce, etc.
an area of smooth turf set aside for special purposes: a village green
an environmentalist; specif., a member of an environmentalist political party
☆

Slang

money, esp. paper money: chiefly in and

Golf

the plot of carefully tended turf immediately surrounding each of the holes to facilitate putting
transitive verb
,
intransitive verb
to make or become green