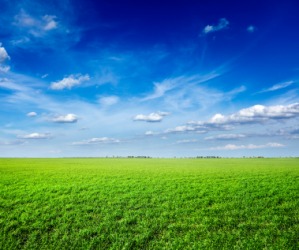 A verdant field.
adjective
The definition of verdant is something that is lush and green.

A field of grass in the spring is an example of verdant.
---
verdant
green
covered with green vegetation
inexperienced; immature: verdant youth
Origin of verdant
probably verd(ure) + -ant, based on Middle French
verdoyant
from Old French
verdoiant,
present participle of
verdoier,
to be green from
verd,
green: see vert
---
verdant
adjective
Green with vegetation; covered with green growth.
Green in hue.
Lacking experience or sophistication; naive.
Origin of verdant
French
verdoyant
from
Old French
present participle of
verdoyer
to become green
from
Vulgar Latin
viridiāre
from
Latin
viridis
Related Forms:
---
verdant

Adjective
(comparative more verdant, superlative most verdant)
---