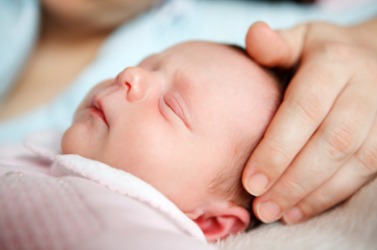 An innocent newborn baby.
adjective
Innocent is defined as free from sin, guilt or wrongdoing.

An example of innocent used as an adjective is the phrase an innocent joke which means a joke that does not cause harm.
noun
The definition of an innocent is a person free from wrongdoing, guilt or evil.

An example of an innocent is a newborn baby.
---
innocent
free from sin, evil, or guilt; specif.,

doing or thinking nothing morally wrong; pure
not guilty of a specific crime or offense; guiltless
free from harmful intent or effect: an innocent mistake
not malignant; benign: an innocent tumor

knowing no evil
without guile or cunning; artless; simple
naive
ignorant or inexperienced, specif. with regard to sex

totally lacking: with of: innocent of adornment
Origin of innocent
Old French from Classical Latin
innocens
from
in-
, not +
nocens
, present participle of
nocere
, to do wrong to: see necro-
a person knowing no evil or sin, such as a child
a very naive or simple-minded person
the (Holy) Innocents
Bible
those children of Bethlehem slaughtered by King Herod: Matt. 2:16
Innocent
(died 417); pope (401-417): his day is July 28

(born Gregorio Papareschi) died 1143; pope (1130-43)

(born Lotario de' Conti de' Segni) 1161?-1216; pope (1198-1216)

(born Sinibaldo de' Fieschi) died 1254; pope (1243-54)

(born Benedetto Odeschalchi) 1611-89; pope (1676-89)
---
innocent
adjective
Uncorrupted by evil, malice, or wrongdoing; sinless: an innocent child.

a. Not guilty of a specific crime or offense; legally blameless: was innocent of all charges.

b. Within, allowed by, or sanctioned by the law; lawful.

a. Not dangerous or harmful; innocuous: an innocent prank.

b. Candid; straightforward: a child's innocent stare.

a. Not experienced or worldly; naive.

b. Betraying or suggesting no deception or guile; artless.

a. Not exposed to or familiar with something specified; ignorant: American tourists wholly innocent of French.

b. Unaware: She remained innocent of the complications she had caused.

Lacking, deprived, or devoid of something: a novel innocent of literary merit.
noun
A person, especially a child, who is free of evil or sin.
A simple, guileless, inexperienced, or unsophisticated person.
A very young child.
Origin of innocent
Middle English
from
Old French
from
Latin
innocēns
innocent-
in-
not
; see
in-
1
.
nocēns
present participle of
nocēre
to harm
; see
nek-
1
in Indo-European roots.
Related Forms:
---
innocent

Adjective
(comparative more innocent, superlative most innocent)
​Free from guilt, sin, or immorality.

Shakespeare

to offer up a weak, poor, innocent lamb

Bearing no legal responsibility for a wrongful act.
(with of) Having no knowledge (of something).
(with of) Lacking (something).
Lawful; permitted.

an innocent trade

Not contraband; not subject to forfeiture.

innocent goods carried to a belligerent nation
Noun
(plural innocents)
Those who are innocent; young children.

The slaughter of the innocents was a significant event in the New Testament.
Origin
Old French inocent, from Latin innocens ("harmless, inoffensive"), from in- ("not") + nocēns, present participle of noceō ("to hurt").
---