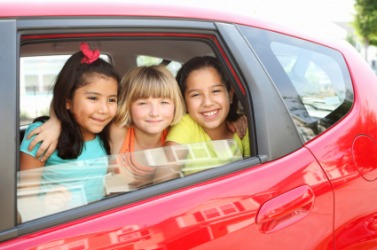 These three children are in the car.
adjective
The definition of in is successful or powerful.

An example of in is are people who are the most looked-up to or the most fashionable.
adverb
In is defined as going from outside to inside.

An example of in is to walk into a house from the backyard.
prefix
In is defined as not, or into.

An example of in used as a prefix is in the word "inadequate," which means not enough.
An example of in used as a prefix is in the word "inbreed," which to breed by mating people or animals which are closely related.
preposition
In is defined as inside the area, moving from a point outside to point inside or having a specific occupation or function.

An example of in is a letter being enclosed by an envelope.
An example of in is a basketball player dunking a ball through a hoop.
An example of in is someone who works as an educator.
---
in
contained or enclosed by; inside; within: in the room, in the envelope
wearing; clothed by: to dress in one's best
during the course of: done in a day
at or before the end of: return in an hour
perceptible to (one of the senses): the town is in sight; he told a lie in my hearing
limited by the scope of: in my opinion

being a member of or worker at: in the navy, in business
being a student at: she's in college
being an inmate of: to be in prison

out of a group or set of: one in ten will fail
amidst; surrounded by: in a storm, in total darkness
affected by (a specified state or condition); having: he's in trouble; they were in tears
engaged or occupied by (an activity or process): in a search for truth, deep in thought
with regard to; as concerns: weak in faith, to vary in size, six feet two in height
so as to form; arranged to produce the form or shape of: hair done in curls, funeral cars moving in a line
with; by; using: to paint in oils, written in English, sculpture done in wood
because of; for: to cry in pain
by way of; for the purpose of: do this in my defense
as a part of the capacity or function of; belonging to: he didn't have it in him to cheat; can you find it in yourself to forgive her?
into [break it in two; come in the house]: when the idea of motion from outside to inside is intended, into is generally preferred
living or located at: vacationing in Venice
Origin of in
Middle English ; from OE, akin to German
in
; from Indo-European base an unverified form
en-
from source Classical Greek
en
, Classical Latin
in
(OL
en
), Old Irish
in
, Old Church Slavonic
on-
, Sanskrit
an-
from a point outside to one inside: to invite visitors in
to or toward a certain place or direction: he flies in today, they live ten miles in
at or inside one's home, office, etc.: forced to stay in for the day

so as to be contained by a certain space or condition
so as to be in office or power

so as to be agreeing or involved: he fell in with our plans
so as to form a part: mix in the cream
that is successful or in power: the in group
inner; inside
coming or going inside or inward: the in door, the in boat
completed, gathered, counted, etc.: the votes are in

Informal

profiting to the extent of: to be in $100

Informal

currently smart, popular, fashionable, etc.: an in place to go

Informal

known to, or able to be understood by, only a certain group of people; inside (): an in reference between friends
⌂

Informal

considered certain to succeed
a person, group, etc. that is in power, in office, or in a favored position: usually used in pl.
⌂

Informal

special influence or favor; pull
inned

,

in′ning
to collect; gather in: we must in the hay before it rains
to enclose
come in
Golf
to play the last nine holes of an 18-hole golf course
have it in for
Informal
to hold a grudge against
in and out of
recurrently or frequently situated in, engaged in, or experiencing: in and out of the hospital, trouble, etc.
in for
certain to have or get (usually an unpleasant experience)
in on
Informal
having a share or part of
ins and outs
all the complex physical details of a place
all the details and intricacies
in with
associated with as a partner, friend, etc.
in, into, within, on, toward: also used as an intensifier in some words of Latin origin [inbreed, infer, induct, instigate]: it becomes il- before l; im- before b, m, or p; and ir- before r
Origin of in-
; from the preposition in; also Middle English ; from Old English
inn
and amp; Middle French
in-
or Old French
en-
; from Classical Latin
in-
; from
in
: see in
no, not, without, non- [insignificant]: it becomes il- before l;im- before b, m, or p; and ir- before r
Origin of in-
Middle English ; from Old French and amp; Medieval Latin ; from Classical Latin ; from Indo-European an unverified form
?-
, initial negative particle, variant, variety of an unverified form
ne
, an unverified form
n?-
from source no, Classical Latin
ne-
a neutral carbohydrate: inulin
a glycoside: amygdalin
a protein: albumin
a glyceride: palmitin
an enzyme: rennin
an antibiotic: streptomycin
an alkaloid or a nitrogenous base: codein
a pharmaceutical preparation: chrysarobin
a commercial product, material, or mixture: algin
an antigen: tuberculin
Origin of -in
see -ine
any of various mass actions or gatherings of a (specified) type, as a political demonstration or a form of entertainment: pray-in, be-in
Origin of -in
; from sit-in
---
in
Preposition
Contained by.

The dog is in the kennel.

Surrounded by.

We are in the enemy camp.   Her plane is in the air.

Pertaining to (that particular thing).

He has passed in English.

Within a certain time constraint

Are you able to finish this in three hours?   The massacre resulted in over 1000 deaths in three hours.

By virtue of; by means of

In replacing the faucet washers, he felt he was making his contribution to the environment.

Indicating an order or arrangement.

My fat rolls around in folds.

Into.

Less water gets in your boots this way.

During (said of periods of time).

in the first week of December;  Easter falls in the fourth lunar month;   The country reached a high level of prosperity in his first term.

Denoting a state of the subject.

He stalked away in anger.   John is in a coma.

Indicates a language, script, tone, etc. of a text, speech, etc.

Beethoven's "Symphony No. 5" in C minor is among his most popular.   His speech was in French, but was simultaneously translated into eight languages.

Indicates a language, script, tone, etc. of writing, speaking, etc.

When you write in cursive, it's illegible.   He spoke in French, but his speech was simultaneously translated into eight languages.

Indicates, connotatively, a place-like form of someone's (something's) personality, as his, her or its psychic and physical characteristics.

You've got a friend in me.   He's met his match in her.
Verb
(third-person singular simple present ins, present participle inning, simple past and past participle inned)
Origin
From Middle English, from Old English in, from Proto-Germanic *in (whence German in, Dutch in, Danish i), ultimately from Proto-Indo-European *en, whence also ultimately Latin in, Irish i, Welsh yn, Ancient Greek ἐν (en) (modern Greek εν (en)), Old Armenian ի (i), Old Church Slavonic vŭ(n)-, Russian в (v), Old Prussian en, Lithuanian į.
Adverb
(not comparable)
(not comparable) Located indoors, especially: at home or the office .

Is Mr. Smith in?

Moving to the interior of a defined space, such as a building or room.

Suddenly a strange man walked in.

(sports) Still eligible to play, e.g. able to bat in cricket and baseball.

He went for the wild toss but wasn't able to stay in.

(UK) abbreviation of in aid of.

What's that in?

After the beginning of something.
Noun
(plural ins)
A re-entrant angle; a nook or corner.
Adjective
(comparative more in, superlative most in)
In fashion; popular.

Skirts are in this year.

Incoming.

the in train

(nautical, of the sails of a vessel) Furled or stowed.
(law) With privilege or possession; used to denote a holding, possession, or seisin.

in by descent; in by purchase; in of the seisin of her husband
Origin
Abbreviation of inch.
See also:
inn
Suffix
(proscribed, eye dialect) Alternative form of -ing.
Usage notes
In speech, the difference between the pronunciations /ɪŋ/ and /ɪn/ is usually one of formality. Most speakers tend to use /ɪŋ/ in more formal situations and /ɪn/ in less formal situations. (But there are some speakers who use mainly /ɪŋ/ or mainly /ɪn/ regardless of the situation.)
In writing, both the /ɪŋ/ and the /ɪn/ pronunciations are usually spelled -ing. When writers use -in', as in makin', they are emphasizing the informality of the situation (attempting, however accurately, to show the social status of the speaker).
The [ɪn] pronunciation is more common for present participles and less common for verbal nouns.
Origin
Alternate pronunciation of -ing with /n/ instead of /ŋ/. From two sources
the Old English present participle suffix -ende
the Old English verbal noun suffix -ung/-ing.
The two Old English suffixes became confused in Modern English, due at least partly to the practice of spelling them both as -ing.
Usage notes
All derivations featuring this suffix are pluralia tantum, but are formally understood as adjectives modifying the Latin feminine plural noun bestiæ ("beasts"); e.g., Felinæ ("cats") = Bestiæ Felinæ ("Feline Beasts").
Origin
From the Latin -īnae, feminine plural form of -īnus ("-ine").
Abbreviations
Country code top-level domains
Active:  .ac  .ad  .ae  .af  .ag  .ai  .al  .am  .an  .ao  .aq  .ar  .as  .at  .au  .aw  .ax  .az  .ba  .bb  .bd  .be  .bf  .bg  .bh  .bi  .bj  .bm  .bn  .bo  .br  .bs  .bt  .bw  .by  .bz  .ca  .cc  .cd  .cf  .cg  .ch  .ci  .ck  .cl  .cm  .cn  .co  .cr  .cu  .cv  .cx  .cy  .cz  .de  .dj  .dk  .dm  .do  .dz  .ec  .ee  .eg  .er  .es  .et  .eu  .fi  .fj  .fk  .fm  .fo  .fr  .ga  .gd  .ge  .gf  .gg  .gh  .gi  .gl  .gm  .gn  .gp  .gq  .gr  .gs  .gt  .gu  .gw  .gy  .hk  .hm  .hn  .hr  .ht  .hu  .id  .ie  .il  .im  .in  .io  .iq  .ir  .is  .it  .je  .jm  .jo  .jp  .ke  .kg  .kh  .ki  .km  .kn  .kp  .kr  .kw  .ky  .kz  .la  .lb  .lc  .li  .lk  .lr  .ls  .lt  .lu  .lv  .ly  .ma  .mc  .md  .me  .mg  .mh  .mk  .ml  .mm  .mn  .mo  .mp  .mq  .mr  .ms  .mt  .mu  .mv  .mw  .mx  .my  .mz  .na  .nc  .ne  .nf  .ng  .ni  .nl  .no  .np  .nr  .nu  .nz  .om  .pa  .pe  .pf  .pg  .ph  .pk  .pl  .pm  .pn  .pr  .ps  .pt  .pw  .py  .qa  .re  .ro  .rs  .ru  .rw  .sa  .sb  .sc  .sd  .se  .sg  .sh  .si  .sk  .sl  .sm  .sn  .sr  .st  .su  .sv  .sy  .sz  .tc  .td  .tf  .tg  .th  .tj  .tk  .tl  .tm  .tn  .to  .tr  .tt  .tv  .tw  .tz  .ua  .ug  .uk  .us  .uy  .uz  .va  .vc  .ve  .vg  .vi  .vn  .vu  .wf  .ws  .ye  .yt  .za  .zm  .zw
---
in - Computer Definition
(Intelligent Network) The public switched telephone network architecture of the 1990s, which was developed by Bellcore (now Telcordia) and the ITU. It was created to provide a variety of advanced telephony services such as 800 number translation, local number portability (LNP), call forwarding, call screening and wireless integration. While Bellcore named its version AIN (Advanced Intelligent Network) for use in North America, there are a variety of proprietary versions throughout the world based on the ITU standard. The IN uses the SS7 signaling protocol in which voice calls (or modem data) travel through circuit-switched voice switches, while control signals travel over an SS7 packet-switched network. See SS7 and converged network.
---