fashionable
fash·ion·a·ble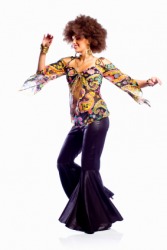 This outfit would have been fasionable in the 1970's.
adjective
The definition of fashionable is something that is in style.

In the 1970s, bell bottom jeans were an example of something that would be described as fashionable.
---
fashionable
following the current style; in fashion; stylish
of, characteristic of, or used by people who follow the current fashion
---
fashionable
adjective
a. Conforming to the current styles or trends; stylish: a fashionable wardrobe.

b. Adopting or setting current styles or trends: a fashionable artist.

Associated with or frequented by stylish or trend-setting people: a fashionable hotel.
noun
A stylish person.
Related Forms:
fash′ion·a·bil·i·ty fash′ion·a·ble·ness

noun
---
fashionable

Adjective
(comparative more fashionable, superlative most fashionable)
Characteristic of or influenced by a current popular trend or style.

a fashionable dress; a fashionable man

Established or favoured by custom or use; current; prevailing at a particular time.

the fashionable philosophy; fashionable opinions

(archaic) genteel; well-bred

fashionable society
Noun
(plural fashionables)
A fashionable person; a fop
---