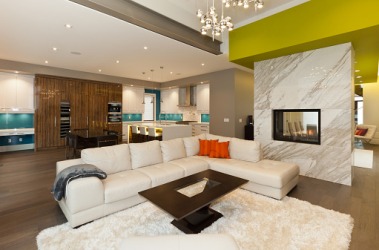 A posh apartment
adjective
The definition of posh is something or someone elegant, luxurious or stylish, or is something done in a stylish or elegant way.

A fancy and elegant apartment building is an example of something that would be described as posh.
---
posh
Informal
luxurious and fashionable; elegant
Origin of posh
probably from obsolete British slang
posh
, earlier
push, poosh
, a dandy from uncertain or unknown; perhaps
---
posh
adjective
posh·er, posh·est
Fashionable or luxurious: a posh hotel.
Typical of the upper class, especially in the United Kingdom: a posh upbringing.
Affectedly imitating characteristics of the upper class; pretentious: a posh accent.
Origin of posh
Probably from
earlier slang
posh
halfpenny, money, dandy
from
Romani (dialect of England)
posh-hórri
halfpenny
posh
half
(
from
Sanskrit
pārśvam
region of the ribs, flank, side
) (
from
parśuh
rib
)
hórra, hórri
penny
Related Forms:
Word History:
"Oh yes, Mater, we had a posh time of it down there." This sentence, found in a 1918 issue of the British satirical magazine
Punch,
contains one of the first known occurrences of the word
posh.
A popular theory holds that
posh
is an acronym of the words
Port Out, Starboard Home
denoting the cooler side of ships traveling from England to India and back again in the 1800s. Cabins on the cooler side of the ship were more expensive, and
POSH
was supposedly stamped on the tickets of first-class passengers traveling on that side of ships owned by the Peninsular and Oriental Steam Navigation Company. Although this theory of the origin of
posh
has caught the public's etymological fancy, no known evidence supports it. Instead, the likely source of the word is the 19th-century British slang word
posh
meaning "money," specifically "a halfpenny, cash of small value." (In British slang of the period,
posh
could also mean "a dandy"—a sense that also suggests a possible connection with the later
posh,
"fashionable or luxurious.")
Posh
meaning "money" (and perhaps also ultimately the
posh
meaning "a dandy," too) is of Romani origin, like a number of other English slang words such as
nark
("an informer"),
pal,
and
shiv. Posh
originated as a shortening of a Romani word meaning "halfpenny" that is recorded, for example, as
posh-hórri
in a 19th-century glossary of words from the variety of Romani used by the Romani people of England.
Posh
in this compound word means "half," while
hórri
is a form of
hórra,
"penny." The Romani people descend from peoples who originally lived in South Asia but migrated westward, probably after around AD 1000, and the Romani language is descended from Sanskrit just like many of the modern languages spoken in South Asia, such as Hindi, Urdu, and Bengali. English Romani
posh,
"half," descends from the Sanskrit word
pārśam,
meaning "side." In this way, the word
posh
does in fact have a distant connection to India.
---
posh

---