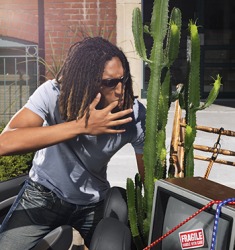 Pricking his hand on the cactus smarts, so Angelo put his finger in his mouth to ease the pain.
adjective
The definition of smart is someone who is intelligent, someone who is well dressed and looking sharp or something that can act on its own accord.

An example of smart is a person with a high IQ.
An example of smart is someone who is dressed neatly in fashionable clothes.
An example of smart is a computer that can perform some functions without the aid of people.
noun
Smart is the act of having intelligence.

An example of smart is someone with a high IQ.

Smart is sharp mental or physical pain.

An example of smart is how your arm feels after a shot.
---
smart
to cause sharp, stinging pain, as a slap
to be the source of such pain, as a wound
to feel such pain

to feel mental distress or irritation, as in resentment, remorse, etc.
Origin of smart
Middle English
smerten
from Old English
smeortan
, akin to German
schmerzen
from Indo-European an unverified form
mer-d
from base an unverified form
mer-
, to rub away, fret from source Classical Latin
mordere
, to bite, sting, Classical Greek
smerdnos
, frightful
a smarting sensation, pain or distress
[pl.]

Slang

shrewdness, intelligence, or acumen
Origin of smart
ME
smerte
< base of v.
causing sharp or stinging pain: a smart slap
sharp or stinging, as pain
brisk; vigorous; lively: walking at a smart pace

intelligent, alert, clever, witty, etc.
shrewd or sharp, as in one's dealings

neat; trim; spruce

in keeping with the current fashion; stylish
characteristic of or used by those who follow the current fashions

Informal

insolent, flippant, etc.

Dial.

quite strong, intense, numerous, etc.; considerable: a right smart rain

Comput.

intelligent (sense )
aimed, guided, and controlled precisely, through the use of computer technology: smart weapons
programmed in advance with certain features, as navigation information or sensing and self-correcting functions: smart cars, smart guns
Origin of smart
ME
smerte
< OE
smeart
< base of v.
smart off
Slang
to be impertinent or flippant
Smart
---
smart
adjective
smart·er, smart·est
a.

Having or showing intelligence; bright. See Synonyms at

intelligent

.

b. Canny and shrewd in dealings with others: a smart negotiator.

a. Amusingly clever; witty: a smart quip; a lively, smart conversation.

b. Impertinent; insolent: That's enough of your smart talk.

Energetic or quick in movement: a smart pace.
Fashionable; elegant: a smart suit; a smart restaurant; the smart set. See Synonyms at fashionable.
Capable of making adjustments that resemble those resulting from human decisions, chiefly by means of electronic sensors and computer technology: smart missiles; smart machines.
intransitive verb
smart·ed, smart·ing, smarts
a. To cause a sharp, usually superficial, stinging pain: The slap delivered to my face smarted.

b. To be the location of such a pain: The incision on my leg smarts.

c. To feel such a pain.

To suffer acutely, as from mental distress, wounded feelings, or remorse: "No creature smarts so little as a fool" ( Alexander Pope )
noun
Sharp pain or anguish: the smart of the wound.
smarts Slang Intelligence; expertise: a reporter with a lot of smarts.
Phrasal Verbs:
smart off
Informal
To speak or act impertinently.
Origin of smart
Middle English
stinging, keen, alert
from
Old English
smeart
causing pain
Related Forms:
---
smart

---
smart - Computer Definition
---