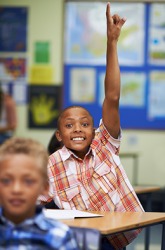 Raymond wasn't trying to be a smart aleck, he just always knew the answer to the question before everyone else in class.
adjective
The definition of smart aleck is someone or something that is annoying because they comes across as having know-it-all tendencies.

An example of a smart aleck answer is a sarcastic reply to a question.
noun
Smart aleck is a negative term for a person who thinks he is intelligent and who always has an answer for everything.

An example of a smart aleck is the class clown who always shouts out when the teacher is asking questions.
---
smart aleck
or smart al·ec
Informal
a person who is annoyingly conceited, insolent, flippant, etc.
Origin of smart aleck
smart +
Aleck
, diminutive of Alexander
---
smart aleck
noun
Informal
A person regarded as annoyingly self-assertive, especially for making impudent displays of knowledge.
Origin of smart aleck
Perhaps after
Aleck
Hoag, 19th-century American confidence man and thief
Related Forms:
smart′-al′eck smart′-al′eck·y

adjective
---
smart-aleck

Noun
(plural smart alecks)
Origin
Aleck is a nickname for Alexander. The phrase "smart aleck" is possibly derived from the name Aleck Hoag, a 19th century con man and thief.
Adjective
(comparative more smart-aleck, superlative most smart-aleck)
That is characteristic of a smart aleck

smart-aleck remarks
---