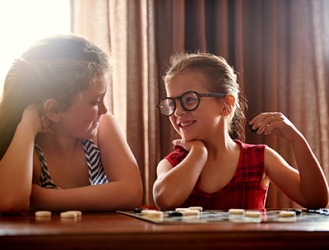 Sydney gave a smarmy grin to her sister before she made the final move to win the game.
adjective
The definition of smarmy is someone who comes across as being insincere.

An example of someone who is smarmy is a used car salesman who tries to come across as if he is a distinguished businessman making you a fair deal but who sounds like he is lying.
---
smarmy
adjective
smarm′i·er

,

smarm′i·est
Informal
flattering in an oily, insincere manner; unctuous
Origin of smarmy
from
smarm, smalm
, to bedaub, smear ( from uncertain or unknown; perhaps ) + -y
---
smarmy
adjective
smarm·i·er, smarm·i·est
Excessively ingratiating or insincerely earnest. See Synonyms at unctuous.
Relating to or indulging in lewd conduct; smutty: smarmy jokes.
Origin of smarmy
From
smarm
to smear
Related Forms:
---
smarmy

Adjective
(comparative smarmier, superlative smarmiest)
Falsely earnest, smug, or ingratiating.

a smarmy salesman with a big smile
Origin
From smarm, a variant of smalm/smawm.
---