saucy

sauc·y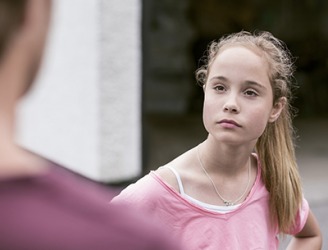 Melanie's saucy attitude is often a challenge for her father.
adjective
The definition of saucy is someone or something overly forward or bold, lively, impertinent or flippant.

An overly forward and rude remark is an example of a saucy remark.
A bold and lively attitude is an example of a saucy attitude.
---
saucy
adjective
-·cier

,

-·ci·est
rude; impudent
pert; sprightly: a saucy smile
stylish or smart: her saucy new hat
Origin of saucy
sauc(e) + -y
---
saucy
adjective
sauc·i·er, sauc·i·est
Impertinent or disrespectful, especially in a playful or lively way: a saucy servant; a saucy smile.
Attractive or stylish, especially in being sexually alluring: a saucy dress.
Having the consistency of or covered with sauce: saucy meatballs.
Related Forms:
---
saucy

Adjective
(comparative saucier, superlative sauciest)
---