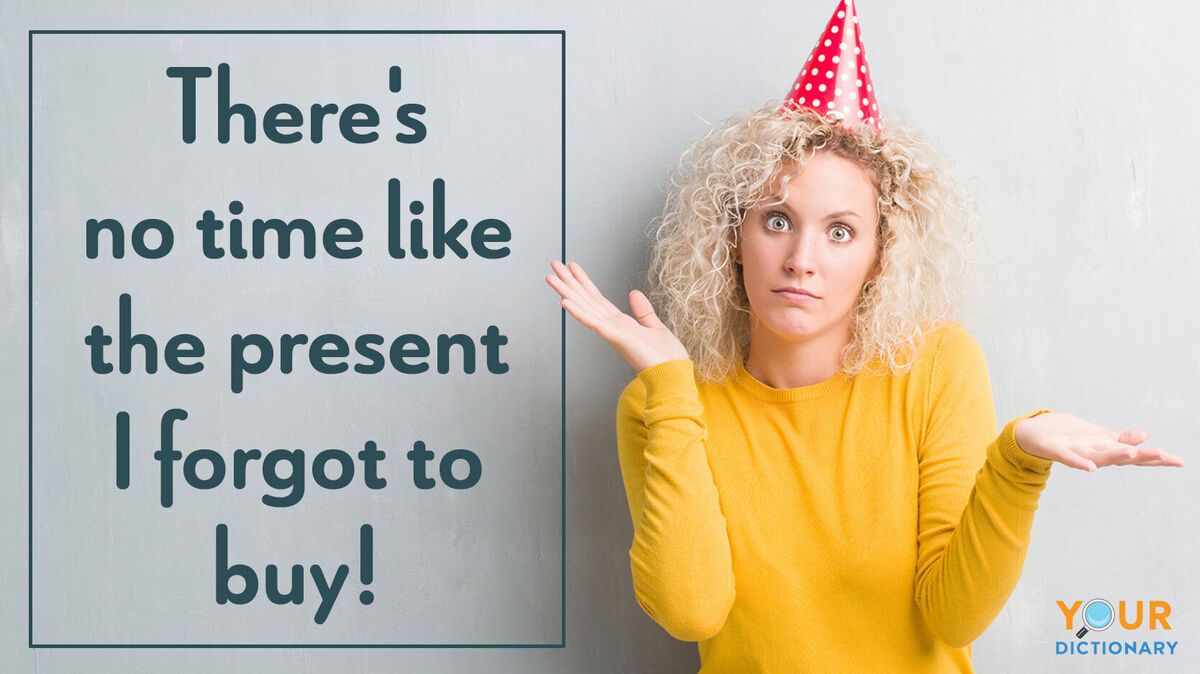 Looking for a creative way to recognize someone's birthday or to let people know that it's your special day? Whether you're looking for cute birthday puns to write in a card or funny one-liners to post on social media, one (or more!) of these birthday puns is sure to bake your day (pun intended).
Cute Puns for Friends and Family
Looking for a fun and light birthday message for friends or family members? These cute little puns are all kinds of fun.
There's no time like the present I forgot to buy!
It's all fun and games until somebody puts the candles out.
Don't gift up, don't gift in; it's time to celebrate your birthday again!

Hooray for me! I get to celebra-cake with you!
Take life one year at a time!

On your birthday, party 'til you're balloon in the face!
Welcome to your birthday! Do you come year often?
Wishing you a happy birthday is elementary, my year!
I've only got years for you!
Celebrating you will never get old!
Birthday Puns for a Best Friend
For your best friend, consider something just a little more sentimental. The puns below make great birthday sayings when you want to highlight a particularly special bond of friendship.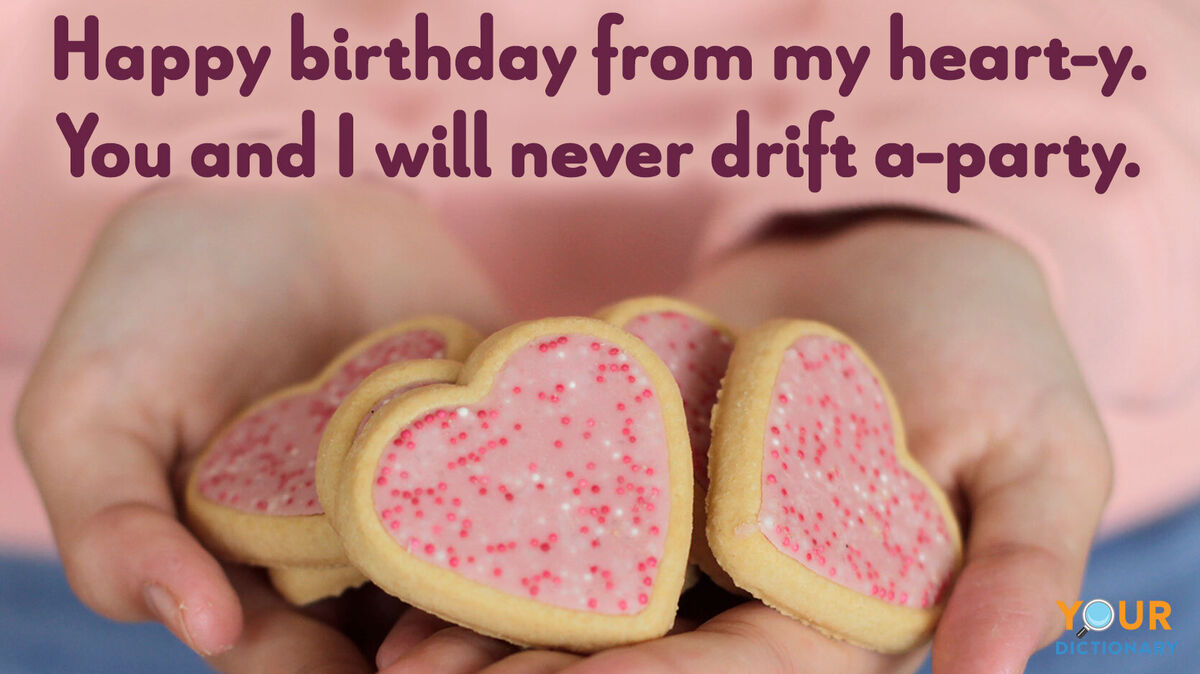 Happy birthday from my heart-y. You and I will never drift a-party.

Nothing can hold a candle to our friendship!

I'd tell you how much you mean to me, but then you'd have a sappy birthday.
What more could you wish for in a present than for me to grace with my presence? Surprise!
You're the icing on my cake! We're mint to be friends forever.

You make friendship a piece of cake.
Life's a piece of cake with you by my side.
Don't you go flying off the candle! Happy birthday from your greatest fan-dle.

You'll never age out of my starting line-up! Happy birthday from your number one fan!
Birthday or not, I'll always be here to gift you a hand!
Animal Puns as Birthday Greetings
What's cuter than an adorable animal? A birthday pun that references an animal, of course! These animal puns are great for kids, but adults will get a (mule) kick out of them too!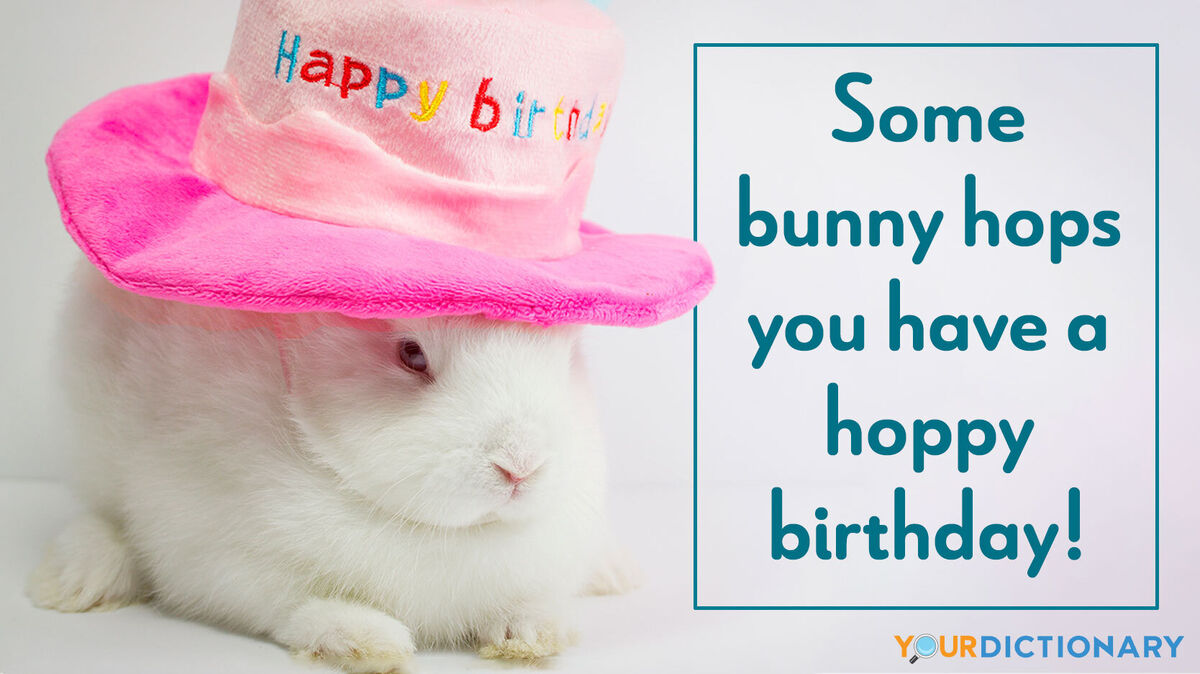 Some bunny hops you have a hoppy birthday!
Warm and fuzzy wishes for a beary-happy birthday!

Have a purr-fect birthday!
A birthday's no time for hi-born-ation!
Age is irr-elephant!
Happy birthday to the most paw-some friend ever.
No kitten around - I wish you the purriest birthday in town.
Happy birthday to who, who, whoo? Owl wish you a happy birthday!
Who gives a hoot about your birthday? I do, that's who, who, whoo!
No horsing around; I hope you have a whinny birthday!
Some bunny carrots that you have a fluffy special birthday!
Funny Birthday Puns About Aging
Is someone special getting closer to going over the proverbial hill? Celebrate their birthday with a snappy little one-liner that really fills the bill!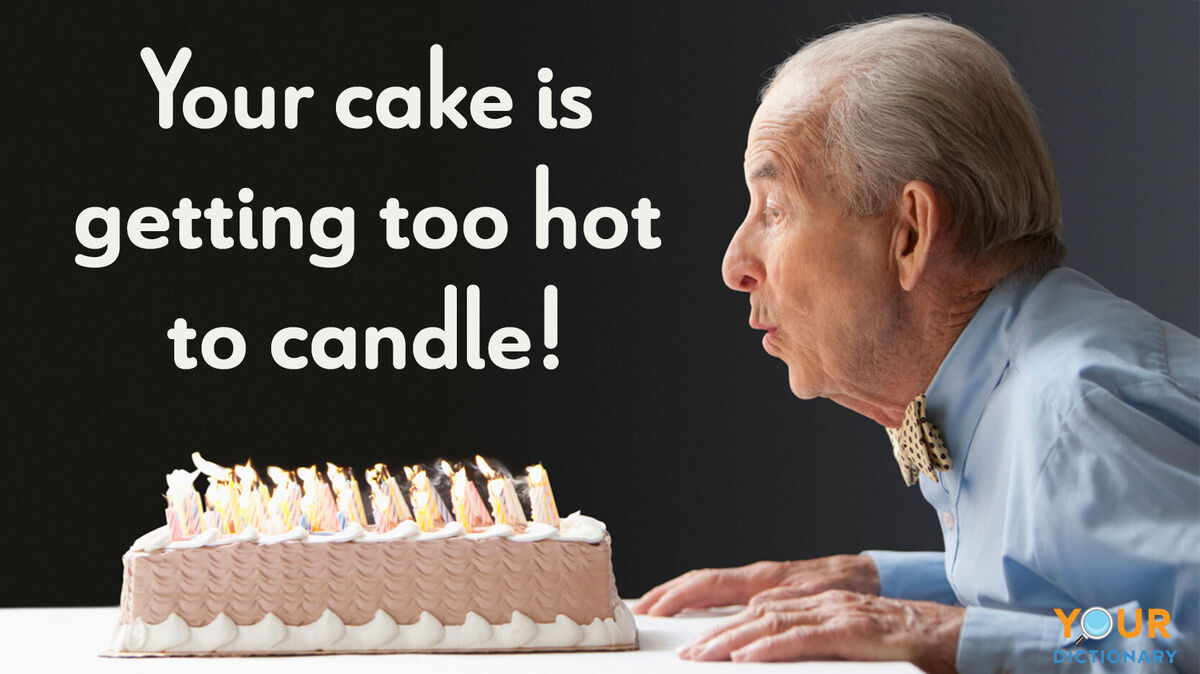 Your cake is getting too hot to candle!
Birthdays can be a double-aged sword.
At your age, a surprise party just might send you to a surprise potty!

With age comes free-yum ... or, at least, cheaper yum with senior discounts!
Somebody call the fire department — that cake is a fire hazard!

You're never too oldie unless you grow moldy.
I've wished you happy birthday so many times that I'm starting to sound like a broken birthday re-card.
At what age should wild birthday parties turn into sym-party parties?
Congratulations on still being alive and cake-ing!
With another birthday comes all-new cakes and pains.
How many candles on your cake? I'll never slice up and share that secret!
How many more birthdays will there be? Plenty I hope, from year to eternity!
Food puns are always tasty, so why not go that root (pun intended) when searching for a birthday pun. These are particularly hilarious if you're taking the birthday person out to dinner or attending a party where a meal (or at least cake!) will be served.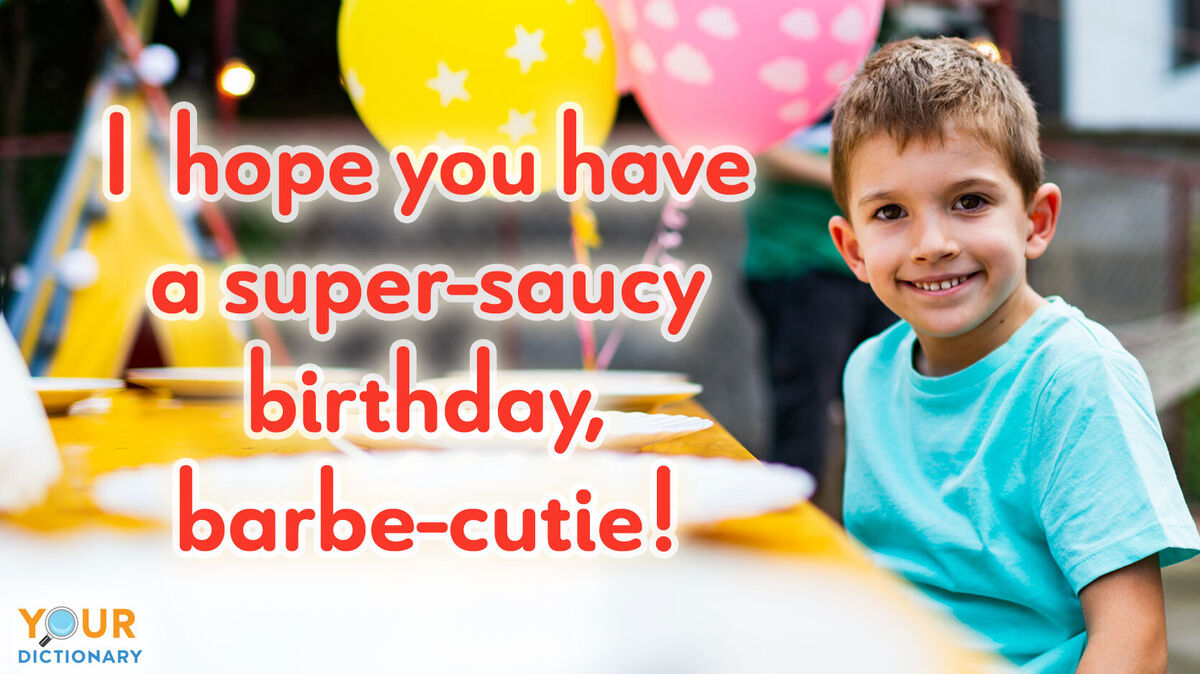 I hope you have a super-saucy birthday, barbe-cutie!
Happy birthday, you special guy. You're the apple spice cake of my eye.
What's the best birthday lunch? Toasty sand-wishes!
Let's spice cake things up a bit! Happy birthday!
On your birthday, you can have your cake and greet it too!
Have an eggs-cellent birthday!
Another birthday for you? Ain't that a cake in the teeth!
Having a tasty birthday should be a pizza cake!
My heart cakes with love for you. Happy birthday!
Here's to putting a cheer-y on top of a perfect birthday!
Snappy Birthday Jokes and Riddles
Looking to make someone chuckle on their birthday? Everyone loves a good riddle. These snappy one-liner quips are sure to get more laughter than just a blip!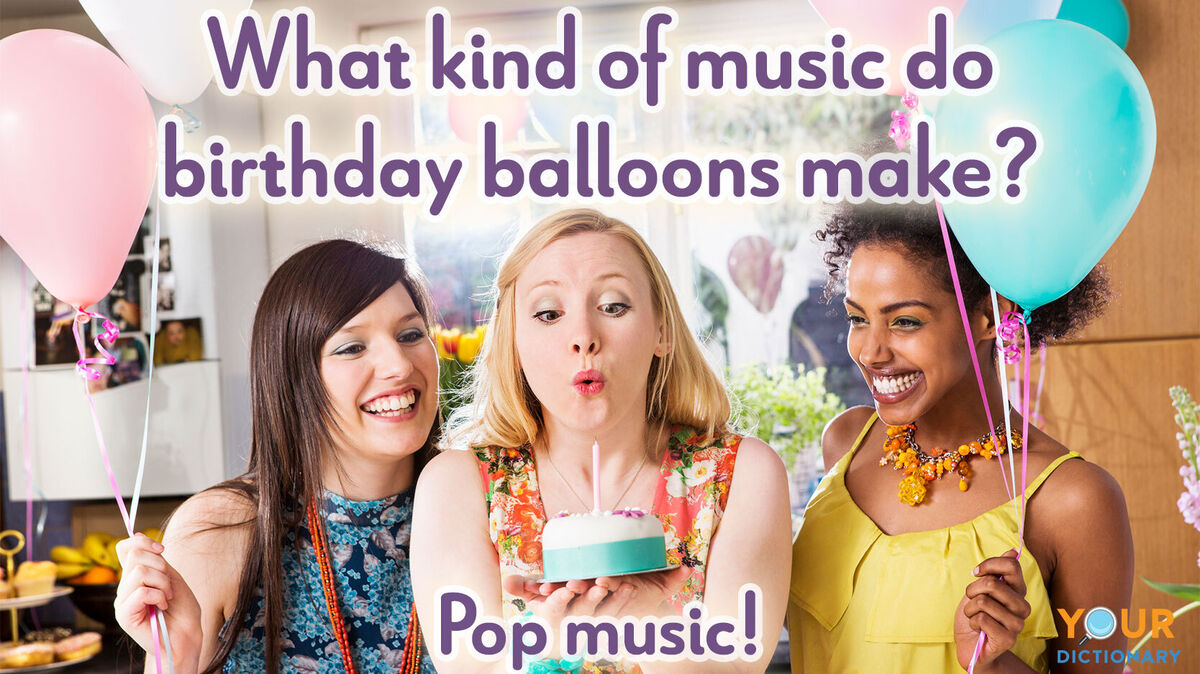 How do you describe a surprise birthday party? It's off the re-card!

What's the best classic to read on your birthday? Macbirth!

What do you call a re-gifted birthday card? A birthday dis-card.
What's it called when you re-use last year's birthday party decorations? A refur-bash.
What kind of music do birthday balloons make? Pop music!
What do you say at an annual birthday party? I've been year before!

What do you say to someone who's late to their own birthday party? Get in year!
How would you describe an inappropriate birthday speech? It was in poor toast.
Why do you want two birthday parties? I don't want all my eggs in one bash-ket.
Punny Wishes for a Birthday Trip
Is the birthday person taking a trip for their special day? You can still send a special greeting via text, social media or even mail a card to their hotel.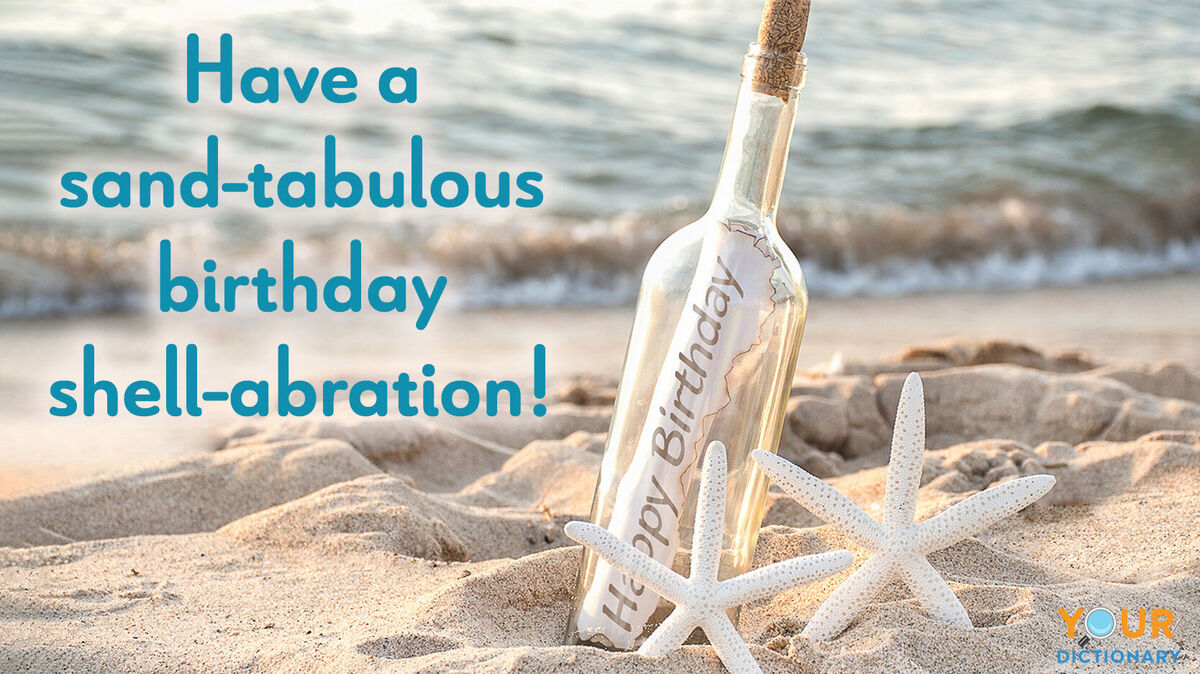 Have a sand-tabulous birthday shell-abration! (beach vacation)
You deserve a peak celebration on this mountainous occasion. (mountain getaway)

Don't get carried away on your birthday! (whitewater rafting trip)

Sail away to a new year! (cruise vacation)
Enjoy your birthday like a candle in the wind. (sailing trip)
Roller coaster your way into a fabulous new year. (theme park visit)
Hippo birdie to ewe! (zoo outing)
Be sure to keep birth oars in the water! Happy birthday! (canoeing)

Getting older's in the mix? Don't crumb cake about it; get some rum cake instead! (Caribbean island escape)
Have an age-ile birthday! (yoga retreat)
I hope you don't get a slice on your birthday! Happy birdie! (golf vacation)

Enjoy lang-wishing in silence on your birthday! (meditation retreat)
Don't get sun-born-ed! (tropical resort escape)
Have the time of year life, and hold on for year life! (hang gliding)
A Special Greeting for a Special Day
Finding the right thing to say in order to wish someone a happy birthday isn't always the easiest thing to do. Hopefully, these puns have provided inspiration for that special someone's birthday celebration. If you're still searching for the perfect passages, check out more fun and creative birthday messages. You may even want to consider sending a note that includes a famous birthday quote.