noun
The definition of a flip is a quick change over or a somersault.

An example of a flip is changing from being a staunch atheist to a devout Catholic in an instant.
verb
To flip is defined as to turn from one side to the other or to lightly toss.

An example of to flip is to turn a pancake over to cook the other side.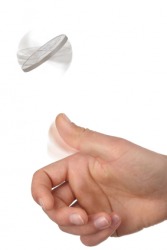 A flip of the coin.
---
flip definition by Webster's New World
transitive verb
flipped, flipping
to toss or move with a quick jerk; flick: flip the drawer shut
to snap (a coin) into the air with the thumb, as in betting on which side will land uppermost
to turn or turn over: to flip pages in a book
Origin: echoic
intransitive verb
to make a quick, light stroke, as with the finger or a whip; snap
to move jerkily
to flip a coin, as in letting chance decide something
to turn over quickly; specif., to execute a flip
to look (through) in a quick, random manner
☆

Slang

to lose self-control as a result of excitement, anger, madness, etc.
noun
the act or motion of flipping; snap, tap, jerk, or toss
a somersault in the air
noun
a sweetened mixed drink of beer, wine, or liquor with eggs, spices, etc.
Origin: probably ; from flip
---
flip definition by American Heritage Dictionary
verb
flipped
flipped
,
flip·ping
,
flips
verb
, transitive
To throw or toss with a light brisk motion: flipped me the ball; flipped his hair out of his eyes.
To toss in the air, imparting a spin: flip a coin.

a. To turn over or around, especially with a light quick motion: flip over a card; flipped the tape to play the other side.

b. To turn through; leaf: flipped the pages of the report.

To strike quickly or lightly; flick.
To move or act on with a quick motion: flip a switch; flipped open her briefcase.
verb
, intransitive
To turn over: The canoe flipped over in the rapids.
To turn a somersault, especially in the air.
To move in twists and turns: fish flipping about in the net.
To move quickly and lightly; snap: The lid flipped open.
To leaf; browse: flipped through the catalogue.
Slang

a. To go crazy. Often used with out.

b. To react strongly and especially enthusiastically: She flipped over the new car.
noun
The act of flipping, especially:

a. A flick or tap.

b. A short, quick movement: a flip of the wrist.

c. A somersault.

Informal A reversal; a flipflop.
A mixed drink made with any of various alcoholic beverages and often including beaten eggs.
adjective
flip·per
,
flip·pest
Informal
Marked by casual disrespect; impertinent: a flip answer to a serious question.
Origin: Perhaps imitative.
The American Heritage® Dictionary of the English Language, 4th edition Copyright © 2010 by Houghton Mifflin Harcourt Publishing Company. Published by Houghton Mifflin Harcourt Publishing Company. All rights reserved.
---
flip - Phrases/Idioms
flip one's lid
or
flip one's wig
☆
Slang
to lose self-control; go berserk
flip (one's) lid
Slang

To react strongly, as with anger or enthusiasm.
To go crazy.