riff

Riff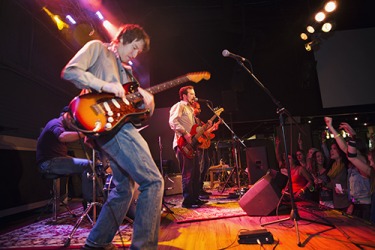 The lead guitarist played a riff while the crowd cheered with intensity.
noun
The definition of a riff is a short rhythm phrase used in music, that is often played when a soloist is performing or when chords and harmonies are changing.

An example of a riff is a repeated phrase that is used to lead up to an improvisational solo or used behind a solo in a song.
---
riff
a constantly repeated musical phrase used esp. as background for a soloist or as the basic theme of a final chorus

Informal

a short, incisive comment, passage, or scene, often one of several functioning as variations on a theme, in a speech, novel, film, etc.
Origin of riff
origin, originally a term in jazz: probably altered from refrain
to play a riff

Informal

to make use of a riff or riffs
Riff
noun
pl.

Riffs

or

Riff′i
a member of a Berber people living in the Rif and nearby regions
Riff
---
riff
noun
Music A short rhythmic phrase, especially one that is repeated in improvisation.
A repeated or varied theme, idea, or phrase: gave us another of his riffs on the decline of civilization.
intransitive verb
riffed, riff·ing, riffs
To play or make riffs. Often used with on .
Origin of riff
Origin unknown
Riff
or Rif
noun
pl.
Riff,
or
Riffs
or
Rif
or
Rifs
also
Rif·fi
A member of any of several Berber peoples inhabiting Er Rif.
The Berber language of this people.
Related Forms:
---
riff

Noun
(plural riffs)
A variation on something.
---
riff - Computer Definition
(1) (Resource Interchange File Format) A multimedia file format introduced by Microsoft and IBM in the early 1990s that is structured in "chunks." Each chunk identifies the type of data that follows, thus RIFF files can be composites of different audio and video content. Microsoft's AVI and WAV files conform to the RIFF format. See AVI and WAV.
(2) An earlier bitmapped graphics format developed for Letraset's ImageStudio and Ready, Set, Go programs for the Macintosh.
---