hurricane

hur·ri·cane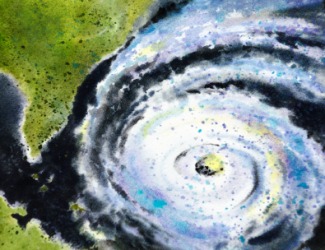 Aerial view of a hurricane.
noun
The definition of hurricane is a storm with winds of 74 mph or more.

Facts About Hurricanes

Hurricanes are tropical cyclones that form over the warm, humid air near the equator in the Atlantic Ocean and the Caribbean.
U.S. hurricane season is defined as June 1st to November 30th of each year, with the peak in September. The Atlantic coast peak is a bit earlier in the season, mainly between mid-August through mid-September.
A hurricane needs a surface water temperature of at least 79 degrees Fahrenheit to warm the air at the ocean surface which then rises up, taking water in the form of vapor with it.
A low-pressure system will cause the clouds to rapidly circle counterclockwise (in the Northern Hemisphere) or clockwise (in the Southern Hemisphere). An eye will form in the center.

Converging winds at the ocean's surface collide pushing even more water vapor upwards, increasing warm air circulation and the wind speeds.
High pressure air at high altitudes pull even more heat away from the center of the storm, cooling the rising air resulting in further condensation and causing a faster release of heat energy. The high pressure air is pulled into the low-pressure center increasing the wind speeds.
Hurricanes make landfall between the Gulf of Mexico coast and the Florida peninsula.
When a hurricane hits the ground, the bottom part of the hurricane slows down. The top part picks up even more speed and momentum and a tornado can form.

A hurricane can form quickly within six hours, or it can take as long as 10 days.

A hurricane's winds range from 74 mph and can exceed 155 mph, carry six to 12 inches of rainfall and bring storm surges near the coast.
Most Atlantic hurricanes average nine days but the hurricanes that form in August average 12 days.

Hurricanes can form tornadoes thousands of miles away from the original point of storm impact.

A storm is classified a hurricane when the winds reach a speed of 74 mph. After that point, a hurricane is categorized according to the Saffir-Simpson Hurricane Scale:

Category 1, winds 74-95, minimal damage and flooding, 4-5 foot storm surge

Category 2, winds 96-110, moderate damage to buildings, more damage to vegetation, flooding, 6-8 foot storm surge

Category 3, winds 111-130, extensive damage to buildings, mobile homes destroyed, extensive flooding, 9-12 foot storm surge

Category 4, winds 131-155, extreme damage to buildings, erosion of beach, massive flooding, 13-18 foot storm surge

Category 5, winds more than 155, catastrophic damage with complete roof or building destruction, extreme flooding, over 18 foot storm surge

Hurricanes are tracked with satellite pictures, rainfall measurements, 3-D measurements, windspeed measurements.

Major Hurricane Tracks

East Pacific - Hurricane paths tend to gather near the western side of Central America.
West Pacific - Hurricanes are located near either the Chinese mainland or the islands right off the shore.
South Pacific - Hurricanes often take a path over land.

An example of a hurricane is the storm Katrina that hit New Orleans in 2005.

Hurricane is defined as something that is as strong as a devastating storm.

An example of Hurricane is the nickname for a famous boxer.
---
hurricane
a violent tropical cyclone with winds moving at 74 or more miles per hour, often accompanied by torrential rains, and originating usually in the West Indian region: winds of hurricane force sometimes occur in the absence of a hurricane system
anything like a hurricane in force and speed
Origin of hurricane
Spanish
huracán
from West Indian (Taino)
huracan
---
hurricane
noun
A severe tropical cyclone having winds greater than 64 knots (74 miles per hour; 119 kilometers per hour), originating in the equatorial regions of the Atlantic Ocean or Caribbean Sea or eastern regions of the Pacific Ocean, traveling north, northwest, or northeast from its point of origin, and usually involving heavy rains.
A wind with a speed greater than 64 knots (74 miles per hour; 119 kilometers per hour per hour), according to the Beaufort scale.
Something resembling a hurricane in force or speed.
Origin of hurricane
Spanish
huracán
from
Taíno
hurákan
Arawak
kulakani
thunder
hurricane
cutaway depiction of a hurricane
---
hurricane

Noun
(plural hurricanes)
A severe tropical cyclone in the North Atlantic Ocean, Caribbean Sea, Gulf of Mexico, or in the eastern North Pacific off the west coast of Mexico, with winds of 74 miles per hour (119 kph) or greater accompanied by rain, lightning, and thunder that sometimes moves into temperate latitudes.
Origin
From Spanish huracán, ultimately from the name of the Taino storm god Juracán whom the Taínos believed dwelled on El Yunque mountain and, when he was upset, sent the strong winds and rain upon them.
Origin
Coined by Jeret Peterson
---
hurricane - Computer Definition
An earlier set of utilities from McAfee that made a Windows PC faster. It provided such functions as memory compression, print spooling and disk file relocation.
---