noun
The definition of a hurricane lamp is a special lamp designed to work in high winds because it has a glass chimney that protects the flame from being extinguished.

An example of a hurricane lamp is an old fashioned candle lamp with a tall glass chimney to protect the candle flame from high winds.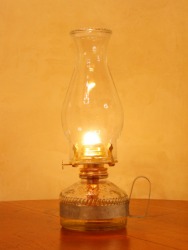 One style of hurricane lamp.
---
hurricane lamp
an oil lamp or candlestick with a tall glass chimney to keep the flame from being blown out
an electric lamp in imitation of this
---
hurricane lamp
---