adjective
The definition of defiant is someone or something that resists behaving or conforming to what is asked or expected.

An example of defiant is someone who is told to do something and immediately does the opposite.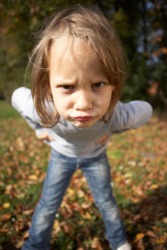 A child acting defiant.
---
defiant
adjective
full of defiance; openly and boldly resisting
Origin of defiant
French
défiant
, present participle of
défier
---
defiant
---
defiant
Adjective
(comparative more defiant, superlative most defiant)
Defying.
Boldly resisting opposition.
Origin
French défiant, from the verb défier
---