audacious

au·da·cious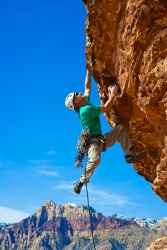 This is an audacious act.
adjective
The definition of audacious is bold, daring or fearless.

Wearing a very low cut dress to a conservative event is an example of audacious.
A shy housewife traveling to a war torn country alone is an example of an audacious act.
---
audacious
bold or daring; fearless
not restrained by a sense of shame or propriety; rudely bold; brazen
Origin of audacious
from Classical Latin
audacia
, audacity from
audax
(gen.
audacis
), bold from
audere
, to dare, be bold
---
audacious
adjective
Fearlessly, often recklessly daring; bold. See Synonyms at adventurous. See Synonyms at brave.
Unrestrained by convention or propriety; brazen or insolent: audacious rudeness.
Spirited and original: an audacious interpretation of two Jacobean dramas.
Origin of audacious
French
audacieux
from
Old French
audace
boldness
from
Latin
audācia
from
audāx
audāc-
bold
from
audēre
to dare
from
avidus
avid
; see
avid
.
Related Forms:
---
audacious

---