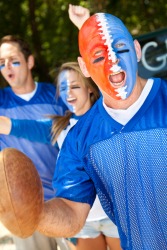 This would be an avid sports fan.
adjective
The definition of avid is someone greedy, with a craving for or with a strong interest in something.

A person who wants to win at any cost is an example of avid.
Someone who talks only about sports is an avid sports fan.
---
avid
having an intense craving; greedy: avid for power
eager and enthusiastic: an avid reader
Origin of avid
Classical Latin
avidus
from
avere
, to desire
---
avid
adjective
Having or marked by keen interest and enthusiasm: an avid golfer; an avid interest in cooking.
Having or marked by strong desire or craving; greedy: an economy with an avid appetite for consumer goods.
Origin of avid
Latin
avidus
from
avēre
to desire
Related Forms:
---
avid

---