passionate

pas·sion·ate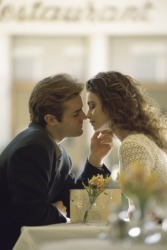 A passionate couple having a romantic dinner.
adjective
The definition of passionate is having or showing strong feelings, strong emotions or a strong sexual desire.

An example of passionate is someone who loves their career.
---
passionate
having or showing strong feelings; full of passion
easily angered; hot-tempered
resulting from, expressing, or tending to arouse strong feeling; ardent; intense; impassioned: a passionate speech
readily aroused to sexual activity; sensual
strong; vehement: said of an emotion
Origin of passionate
Middle English
passionat
from Medieval Latin
passionatus
---
passionate
adjective
Capable of, having, or dominated by powerful emotions: a family of passionate personalities.
Wrathful by temperament; choleric.
Marked by strong sexual desire; amorous or lustful.
Showing or expressing strong emotion; ardent: a passionate speech against injustice.
Arising from or marked by passion: a teacher who is passionate about her subject.
Related Forms:
---
passionate

Adjective
(comparative more passionate, superlative most passionate)
Noun
(plural passionates)
A passionate individual.
Verb
(third-person singular simple present passionates, present participle passionating, simple past and past participle passionated)
Origin
From Medieval Latin passionatus, past participle of passionare ("to be affected with passion"); see passion.
---