adjective
The definition of fierce is cruel, violent or intense.

An example of fierce is the nature of an angry bear.
An example of fierce is storm with very high winds.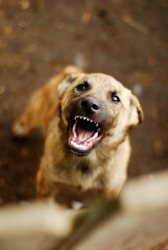 A fierce dog.
---
fierce definition by Webster's New World
adjective
fiercer, fiercest
of a violently cruel nature; savage; wild: a fierce dog
violent; uncontrolled: a fierce storm
intensely eager; intense; ardent: a fierce embrace
☆

Informal

very distasteful, disagreeable, bad, etc.
Origin: Middle English fers ; from Old French fers, fier ; from Classical Latin ferus, wild, savage ; from Indo-European base an unverified form hwer-, wild animal from source Classical Greek thēr, animal
Webster's New World College Dictionary Copyright © 2010 by Wiley Publishing, Inc., Cleveland, Ohio. Used by arrangement with John Wiley & Sons, Inc.
---
fierce definition by American Heritage Dictionary
adjective
fierc·er
,
fierc·est
Having a savage and violent nature; ferocious. See Synonyms at cruel.
Extremely severe or violent; terrible: "the fierce thunders roar me their music" (Ezra Pound).
Extremely intense or ardent: fierce loyalty. See Synonyms at intense.
Strenuously active or resolute: a fierce attempt to escape.
Informal Very difficult or unpleasant: a fierce exam.
Savage or threatening in appearance.
Origin: Middle English fiers, from Old French, from Latin ferus; see ghwer- in Indo-European roots.
Related Forms: