adjective
The definition of calm is someone or something who is peaceful and free from stress or worries.

An example of peaceful is a warm, quiet summer day.
noun
Calm is defined as a state of peace and tranquility.

An example of calm is an atmosphere where no one is fighting or arguing and there is no stress or tension.
verb
To calm means to soothe and pacify someone to make him free of stress, or to become free of stress yourself.

An example of calm is what you are doing when you rock a baby to try to make him stop crying and fussing.
An example of calm is the change in the atmosphere when a baby gradually stops crying and fussing.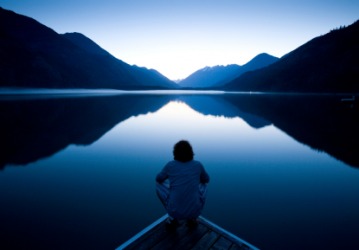 A calm lake at sunset.
---
calm definition by Webster's New World
noun
lack of wind or motion; stillness
lack of agitation or excitement; tranquillity; serenity

Meteorol.

a condition in which the air movement is less than one mile per hour
Origin: Middle English and amp; Old French calme ; from OIt calma ; from Late Latin (Vulg.: Job 30:30) cauma, heat, heat of the day (hence, in Italian time to rest, quiet: see siesta) ; from Classical Greek kauma, heat, especially of the sun ; from kaiein, to burn; Italian spelling, spelled influenced, influence by Classical Latin calere, to be hot
adjective
without wind or motion; still; quiet
not agitated or excited; tranquil or cool
transitive verb
,
intransitive verb
to make or become calm: often with down
---
calm definition by American Heritage Dictionary
adjective
calm·er
,
calm·est
Nearly or completely motionless; undisturbed: the calm surface of the lake.
Not excited or agitated; composed: The President was calm throughout the global crisis.
noun
An absence or cessation of motion; stillness.
Serenity; tranquillity; peace.
A condition of no wind or a wind with a speed of less than 1 knot (1.15 miles per hour; 1.9 kilometers per hour), according to the Beaufort scale.
tr. & intr.v.
calmed
,
calm·ing
,
calms
To make or become calm or quiet: A warm bath will calm you. After the storm, the air calmed.
Origin: Middle English calme, from Old French, from Old Italian calmo, from Late Latin cauma, heat of the day, resting place in the heat of the day, from Greek kauma, burning heat, from kaiein, to burn. N., from Middle English calme, from Italian calma, from Vulgar Latin *calma, from Late Latin.
Related Forms: