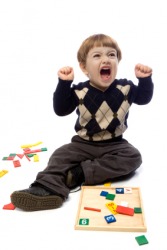 Something has inflamed this child's anger.
---
inflame definition by Webster's New World
transitive verb
inflamed, inflaming
to set on fire
to arouse passion, desire, or violence in; excite intensely, as with anger
to increase the intensity of (passion, desire, violence, etc.)
to cause inflammation in (some organ or tissue)
Origin: Middle English enflamen ; from Old French enflammer ; from Classical Latin inflammare: see in- and amp; flame
intransitive verb
to become roused, excited, stimulated, etc.
to catch fire
to become hot, feverish, swollen, red, sore, etc.
Webster's New World College Dictionary Copyright © 2010 by Wiley Publishing, Inc., Cleveland, Ohio. Used by arrangement with John Wiley & Sons, Inc.
---
inflame definition by American Heritage Dictionary
verb
in·flamed
,
in·flam·ing
,
in·flames
verb
, transitive
To arouse to passionate feeling or action: crimes that inflamed the entire community.
To make more violent; intensify: "inflamed to madness an already savage nature" (Robert Graves).

a. To cause (the skin) to redden or grow hot, as from strong emotion or stimulants.

b. To turn red or make glow: Great bonfires inflamed the night.

To produce inflammation in (a tissue or organ).
To set on fire; kindle.
verb
, intransitive
To become excited or aroused.
To be affected by inflammation.
To catch fire.
Origin: Middle English enflaumen, from Old French enflammer, from Latin īnflammāre : in-, intensive pref.; see in-2 + flammāre, to set on fire (from flamma, flame; see bhel-1 in Indo-European roots).
Related Forms: