verb
The definition of alleviate is to make something easier to deal with or endure.

An example of alleviate is to take pain killers to ease the tension of a headache.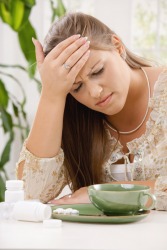 This woman hopes these things will alleviate her headache.
---
alleviate definition by Webster's New World
transitive verb
alleviated, alleviating
to make less hard to bear; lighten or relieve (pain, suffering, etc.)
to reduce or decrease: to alleviate poverty
Origin: Middle English alleviaten ; from Late Latin alleviatus, past participle of alleviare, for Classical Latin allevare ; from ad-, to plush levis, light
Webster's New World College Dictionary Copyright © 2010 by Wiley Publishing, Inc., Cleveland, Ohio. Used by arrangement with John Wiley & Sons, Inc.
---
alleviate definition by American Heritage Dictionary
transitive verb
al·le·vi·at·ed
,
al·le·vi·at·ing
,
al·le·vi·ates
To make (pain, for example) more bearable:
a drug that alleviates cold symptoms.
See Synonyms at
relieve
.
Origin: Middle English alleviaten, from Late Latin alleviāre, alleviāt-, to lighten : Latin ad-, ad- + levis, light; see legwh- in Indo-European roots.
Related Forms: