blunt

blunt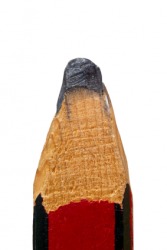 A pencil with a blunt tip.
adjective
The definition of blunt is someone who speaks in a direct, often rude way or something with a dull edge or point.

An example of blunt is a man telling his wife she looks fat in the dress she's wearing.
noun
Blunt is defined as a slang word for a marijuana cigarette wrapped in a hollowed out cigar.

An example of blunt is the method many marijuana smokers use to smoke marijuana in the hip hop community.
verb
Blunt means to make something less effective or dull.

An example of blunt is sanding the point from a wooden stake.
---
blunt
slow to perceive, feel, or understand; dull
having a dull edge or point; not sharp
plain-spoken and abrupt
Origin of blunt
Middle English from uncertain or unknown; perhaps
to make (an edge or point) dull
to make dull or insensitive
to make less effective
to develop a dull edge or point
Slang
a marijuana cigarette, specif. one made by putting marijuana into the wrapper of a hollowed-out cigar
---
blunt
adjective
blunt·er, blunt·est
Having a dull edge or end; not sharp.

a.

Abrupt and often disconcertingly frank in speech:

"People

[in the Western US]

are blunt with one another, sometimes even cruel, believing honesty is stronger medicine than sympathy"

(

Gretel Ehrlich

) See Synonyms at

gruff

.

b. Stark; unadorned: "The blunt truth … is that he is devoid of political courage" ( Jeff Jacoby )

Slow to perceive, understand, or feel; dull or insensitive: "I felt blunt with shock when I heard the news" ( Sallie Bingham )
verb
blunt·ed, blunt·ing, blunts
verb
transitive
To dull the edge of (a knife, for example).
To make less effective; weaken: blunting the criticism with a smile.
verb
intransitive
To become blunt: When the scraper blade blunts, you will have to replace it.
noun
A cigar whose interior has been hollowed out and filled with marijuana.
A marijuana cigarette that has been rolled in a cigar's tobacco leaf wrapper instead of rolling paper.
Origin of blunt
Middle English
N., short for
Phillies Blunt
a trademark for cigars of a type often used to make blunts
Related Forms:
---
blunt

Adjective
(comparative blunter, superlative bluntest)
Having a thick edge or point, as an instrument; not sharp.
Dull in understanding; slow of discernment; opposed to acute.
Abrupt in address; plain; unceremonious; wanting the forms of civility; rough in manners or speech.

the blunt admission that he had never liked my company

Hard to impress or penetrate.
Slow or deficient in feeling: insensitive.
Verb
(third-person singular simple present blunts, present participle blunting, simple past and past participle blunted)
To dull the edge or point of, by making it thicker; to make blunt.
(figuratively) To repress or weaken, as any appetite, desire, or power of the mind; to impair the force, keenness, or susceptibility, of; as, to blunt the feelings.
Origin
Possibly from Old Norse blundra.
---