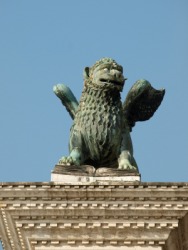 A sculpture of a chimera on the Piazetta in Venice.
noun
The definition of chimera is a fire-breathing female monster in Greek myths with the head of a lion, the body of a goat, and the tail of a serpent.

A female monster in Greek myths is an example of chimera.
---
chimera
[C-]

Gr. Myth.

a fire-breathing monster, usually represented as having a lion's head, a goat's body, and a serpent's tail
any similar fabulous monster
an impossible or foolish fancy

Biol.

an organism having two or more genetically distinct types of cells due to mutation, grafting, etc.
Origin of chimera
Middle English and Old French from Classical Latin
chimaera
from Classical Greek
chimaira
, fabulous monster, origin, originally , she-goat that has passed one winter from
cheima
, winter: see hibernate
---
chimera
also chi·mae·ra
noun
a. An organism, organ, or part consisting of two or more tissues of different genetic composition, produced as a result of organ transplant, grafting, or genetic engineering.

b. A gene or protein consisting of parts from two different genes or proteins that are normally distinct, sometimes derived from two different species.

An individual who has received a transplant of genetically and immunologically different tissue.
A fanciful mental illusion or fabrication.
Origin of chimera
Middle English
chimere
Chimera
from
Old French
from
Latin
chimaera
from
Greek
khimaira
female goat, Chimera
; see
ghei-
in Indo-European roots.
Chimera
also Chi·mae·ra
noun
Greek Mythology A fire-breathing female monster usually represented as a composite of a lion, goat, and serpent.
An imaginary monster made up of grotesquely disparate parts.
Chimera
4th-century bc silver
Greek coin
---
chimera

Noun
(plural chimeras)
(mythology) Chimera, or any fantastic creature with parts from different animals
A vain, foolish, or incongruous fancy, or creature of the imagination; as, the chimera of an author
(usually chimaera) A cartilaginous marine fish in the subclass Holocephali and especially the order Chimaeriformes, with a blunt snout, long tail, and a spine before the first dorsal fin
Origin
From Old French chimere, from Latin chimaera, from Ancient Greek Χίμαιρα (khimaira). The fabulous monster in Lycia (with a lion's head, a goat's body, and a serpent's tail), supposedly personification of snow or winter, originally "year-old she-goat", from χεῖμα (kheima, "winter season"). Meaning "wild fantasy" first recorded 1587.
Origin
From Ancient Greek Χίμαιρα (Khimaira).
---