dragon

Drag·on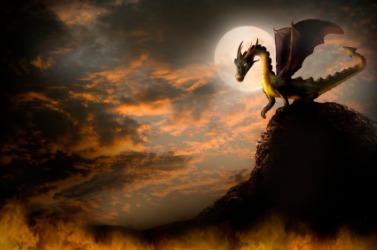 A painting of a dragon.
noun
The definition of a dragon is a mythical flying reptile creature that breaths smoke and fire, or a fierce person.

An example of a dragon is the creature Harry Potter had to fight in the first task of the Triwizard Tournament in the movie Harry Potter and the Goblet of Fire.
---
dragon
a mythical monster, usually represented as a large reptile with wings and claws, breathing out fire and smoke
a fierce person; esp., a fiercely watchful female guardian or chaperone

Historical

a short musket carried hooked to a soldier's belt
a soldier armed with such a musket; dragoon

Obs.

a large serpent or snake

Obs., Bible

a word used to translate several Hebrew words now understood to mean serpent, jackal, Old Serpent (Satan), etc.

Zool.

any of a genus (Draco) of small tree lizards of Southeast Asia, with winglike membranes used in gliding from tree to tree
Origin of dragon
Middle English
dragoun
from Old French
dragon
from Classical Latin
draco
from Classical Greek
drak?n
, dragon, serpent, literally , the seeing one from
derkesthai
, to see from Indo-European base an unverified form
derk-
, to see from source Old Irish
derc
, eye
---
dragon
noun
A mythical monster traditionally represented as a gigantic reptile having a long tail, sharp claws, scaly skin, and often wings.
Any of various lizards, such as the Komodo dragon or the flying lizard.

a. A fiercely vigilant or intractable person.

b. Something very formidable or dangerous.

Archaic A large snake or serpent.
Origin of dragon
Middle English
from
Old French
from
Latin
dracō
dracōn-
large serpent
from
Greek
drakōn
; see
derk-
in Indo-European roots.
dragon
colored woodblock print
Dragon
---
dragon

Noun
(plural dragons)
A legendary, serpentine or reptilian creature.

(Western) A gigantic beast, typically reptilian with leathery bat-like wings, lion-like claws, scaly skin and a serpent-like body, often a monster with fiery breath.

Any of various agamid lizards of the genera Draco, Physignathus or Pogona.
A Komodo dragon.
(astronomy, with definite article, often capitalized) The constellation Draco.
(pejorative) An unpleasant woman; a harridan.
She's a bit of a dragon.
(with definite article, often capitalized) The (historical) Chinese empire or the People's Republic of China.
Napoleon already warned of the awakening of the Dragon.
(figuratively) Something very formidable or dangerous.
A luminous exhalation from marshy ground, seeming to move through the air like a winged serpent.
(military, historical) A short musket hooked to a swivel attached to a soldier's belt; so called from a representation of a dragon's head at the muzzle.
A variety of carrier pigeon.
Origin
From Old French dragon, from Latin dracō, from Ancient Greek δράκων (drakōn, "a serpent of huge size, a python, a dragon"), probably from δρακεῖν (drakein), aorist active infinitive of δέρκομαι (derkomai, "I see clearly").
---