noun
The definition of a dragon is a mythical flying reptile creature that breaths smoke and fire, or a fierce person.

An example of a dragon is the creature Harry Potter had to fight in the first task of the Triwizard Tournament in the movie Harry Potter and the Goblet of Fire.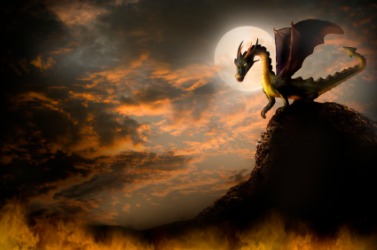 A painting of a dragon.
---
Dragon definition by Webster's New World
noun
a mythical monster, usually represented as a large reptile with wings and claws, breathing out fire and smoke
a fierce person; esp., a fiercely watchful female guardian or chaperon

Historical

a short musket carried hooked to a soldier's belt
a soldier armed with such a musket; dragoon

Obsolete

a large serpent or snake

Bible, Obsolete

a word used to translate several Hebrew words now understood to mean serpent, jackal, Old Serpent (Satan), etc.

Zool.

any of a genus (Draco) of small tree lizards of Southeast Asia, with winglike membranes used in gliding from tree to tree
Origin: Middle English dragoun ; from Old French dragon ; from Classical Latin draco ; from Classical Greek drakōn, dragon, serpent, literally , the seeing one ; from derkesthai, to see ; from Indo-European base an unverified form derk-, to see from source Old Irish derc, eye
Webster's New World College Dictionary Copyright © 2010 by Wiley Publishing, Inc., Cleveland, Ohio. Used by arrangement with John Wiley & Sons, Inc.
---
Dragon definition by American Heritage Dictionary
noun
A mythical monster traditionally represented as a gigantic reptile having a lion's claws, the tail of a serpent, wings, and a scaly skin.

a. A fiercely vigilant or intractable person.

b. Something very formidable or dangerous.

Any of various lizards, such as the Komodo dragon or the flying lizard.
Archaic A large snake or serpent.
Origin: Middle English, from Old French, from Latin dracō, dracōn-, large serpent, from Greek drakōn; see derk- in Indo-European roots.
The American Heritage® Dictionary of the English Language, 4th edition Copyright © 2010 by Houghton Mifflin Harcourt Publishing Company. Published by Houghton Mifflin Harcourt Publishing Company. All rights reserved.
---
dragon - Phrases/Idioms
Dragon
Variant of dragon
noun
a mythical monster, usually represented as a large reptile with wings and claws, breathing out fire and smoke
a fierce person; esp., a fiercely watchful female guardian or chaperon

Historical

a short musket carried hooked to a soldier's belt
a soldier armed with such a musket; dragoon

Obsolete

a large serpent or snake

Bible, Obsolete

a word used to translate several Hebrew words now understood to mean serpent, jackal, Old Serpent (Satan), etc.

Zool.

any of a genus (Draco) of small tree lizards of Southeast Asia, with winglike membranes used in gliding from tree to tree
Origin: Middle English dragoun ; from Old French dragon ; from Classical Latin draco ; from Classical Greek drakōn, dragon, serpent, literally , the seeing one ; from derkesthai, to see ; from Indo-European base an unverified form derk-, to see from source Old Irish derc, eye