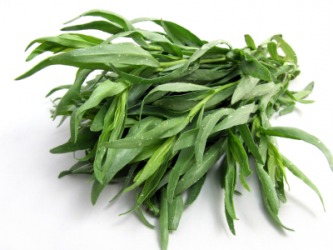 Fresh tarragon leaves.
---
tarragon definition by Webster's New World
noun
an Old World wormwood (Artemisia dracunculus) whose fragrant leaves are used for seasoning, esp. in vinegar
the leaves of this plant
Origin: Spanish taragona ; from Arabic ṭarkhūn ; from uncertain or unknown; perhaps Classical Greek drakōn, dragon
Webster's New World College Dictionary Copyright © 2010 by Wiley Publishing, Inc., Cleveland, Ohio. Used by arrangement with John Wiley & Sons, Inc.
---
tarragon definition by American Heritage Dictionary
noun
An aromatic Eurasian herb (Artemisia dracunculus) having linear to lance-shaped leaves and small, whitish-green flower heads arranged in loose, spreading panicles.
The leaves of this plant used as a seasoning.
Origin: New Latin tarchon, from Medieval Greek tarkhōn, from Arabic ṭarḫūn, perhaps from Greek drakōn, dragon, tarragon; see derk- in Indo-European roots.