goat

goat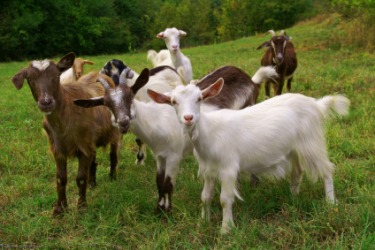 A small herd of goats.
noun
The definition of a goat is a hollow horned, bearded wild or domesticated animal with hooves, or a person who takes the blame for others.

An example of a goat is the animal producing milk from which chèvre cheese is made.
---
goat
pl.

goats

or

any of a genus (Capra) of wild or domesticated bovid ruminants with hollow horns
Rocky Mountain goat

a lecherous man

Informal

a person forced to take the blame or punishment for others; scapegoat
Origin of goat
Middle English
gote
from Old English
gat
, akin to Dutch
geit
, German
geiss
from Indo-European base an unverified form
ghaido-
, he-goat from source Classical Latin
haedus
, kid goat
get someone's goat
Informal
to annoy, anger, or irritate someone
the Goat
Capricornus, the constellation, or Capricorn, the tenth sign of the zodiac
---
goat
noun
A domesticated ruminant mammal (Capra hircus) having backward curving horns and a beard especially in the male, raised for its wool, milk, and meat.
Any of various wild ruminant mammals of the genus Capra and related genera, including the ibexes and the wild goat (C. aegagrus) of Eurasia.
A lecherous man.
A person who is blamed for a failure or misfortune, especially a scapegoat.
Goat
Origin of goat
Middle English
got
from
Old English
gāt
Related Forms:
---
goat

Verb
(third-person singular simple present goats, present participle goating, simple past and past participle goated)
To allow goats to feed on.
To scapegoat.
Noun
(plural GOATs)
(UK, politics, informal) A member of the "government of all the talents" proposed by British prime minister Gordon Brown.
---