illusion

il·lu·sion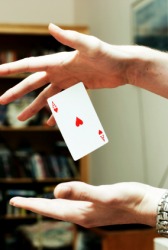 This floating card is an illusion.
noun
Illusion is defined as something that tricks the eye.

An example of an illusion is a drawing that can look like an old lady or a vase depending on which part you focus on.

The definition of an illusion is an idea or something you can see that isn't real.

An example of an illusion is a magician making someone disappear in a box.
---
illusion
a false idea or conception; belief or opinion not in accord with the facts

an unreal, deceptive, or misleading appearance or image: a large mirror giving the illusion of space in a small room
a trick, as one designed or performed by a stage magician, appearing to defy ordinary physical laws

a false perception, conception, or interpretation of what one sees, where one is, etc.
the misleading image resulting in such a false impression

hallucination
a delicate, gauzy silk tulle used for veils, etc.
Origin of illusion
Middle English
illusioun
from Old French
illusion
from Classical Latin
illusio
, a mocking (in LL(Ec), deceit, illusion) from
illusus
, past participle of
illudere
, to mock, play with from
in-
, on +
ludere
, to play: see ludicrous
---
illusion
noun
a. An erroneous perception of reality: Mirrors gave the illusion of spaciousness.

b. An erroneous concept or belief: The notion that money can buy happiness is an illusion.

The condition of being deceived by a false perception or belief: spent months flailing about in illusion.
Something that is erroneously perceived or construed: The animal in the shadows turned out to be an illusion.
A fine transparent net fabric, used for dresses or trimmings.
Origin of illusion
Middle English
illusioun
from
Old French
from
Late Latin
illūsiō
illūsiōn-
from
Latin
a mocking, irony
from
illūsus
past participle of
illūdere
to mock
in-
against
; see
in-
2
.
lūdere
to play
; see
leid-
in Indo-European roots.
Related Forms:
il·lu′sion·al il·lu′sion·ar′y

adjective
il·lu′sion·less

adjective
illusion
top: straight horizontal rules appear curved
bottom: a gray box against a black background appears lighter than the same gray box against a white background
---
illusion

Noun
(countable and uncountable, plural illusions)
(countable) Anything that seems to be something that it is not.

We saw what looked like a tiger among the trees, but it was an illusion caused by the shadows of the branches.
Using artificial additives, scientists can create the illusion of fruit flavours in food.

(countable) A misapprehension; a belief in something that is in fact not true.

Jane has this illusion that John is in love with her.

(countable) A magician's trick.
(uncountable) The state of being deceived or misled.
Origin
From Old French illusion, from Latin illūsiō, from illūdere, from in- ("at, upon"), + lūdere ("to play, mock, trick")
---