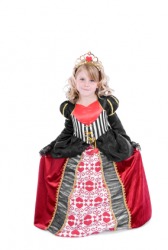 This child's fancy is that she is queen.
adjective
The definition of fancy is someone or something that is extravagant, elaborate, extremely skillful or graded as extremely high quality.

An example of fancy is Zsa Zsa Gabor's fashion sense.
An example of fancy is Gene Kelly's dance skills.
An example of fancy are canned fruits of superior size and appearance.
noun
Fancy is defined as a whim, a mental image or a playful imagination.

An example of fancy is a child imagining herself a queen and pretending her family members are her royal subjects.
---
fancy
noun
pl.
-·cies
imagination, now esp. light, playful, or whimsical imagination
illusion or delusion
a mental image
an arbitrary idea; notion; caprice; whim
an inclination, liking, or fondness, often transient: to take a fancy to someone

Rare

critical taste or judgment in art, dress, etc.
Origin of fancy
Middle English
fantsy
, contr. from
fantasie
: see fantasy
adjective
-·cier

,

-·ci·est
based on fancy; capricious; whimsical; fanciful
higher than real value; extravagant: a fancy price
made or added to please the fancy; ornamental; decorated; not plain; elaborate: a fancy necktie
of superior skill; intricate and difficult: fancy diving
of superior quality, and therefore more expensive: canned goods graded fancy
bred for some special feature or excellence of type: said of animals
transitive verb
-·cied

,

-·cy·ing
to form an idea of; imagine
to have a liking for; be fond of: to fancy rich desserts
to believe something without being sure; suppose: they are, I fancy, still friends
the fancy
Obs.
the enthusiasts of some sport or hobby, esp. boxing
---
fancy
adjective
fan·ci·er, fan·ci·est
a. Highly decorated: a fancy hat.

b. Complex or intricate: the fancy footwork of a figure skater.

a. Elegantly fashionable or sophisticated: a fancy restaurant; a fancy way of asking for a loan.

b. Of superior grade; fine: fancy preserves.

Excessive or exorbitant: paid a fancy price for the car.
Bred for unusual qualities or special points.
noun
pl.
fan·cies
The mental faculty through which whims, visions, and fantasies are summoned up; imagination, especially of a whimsical or fantastic nature.
Something imagined or invented by the mind: "As the fancies that kept crowding in upon him only made him more excited, he got out of bed and tried to think." ( Sherwood Anderson )

a. A capricious liking or inclination: I have a fancy for a glass of wine.

b. A romantic liking or interest: She's taken a fancy to you.

a. The enthusiasts or fans of a sport or pursuit considered as a group.

b. The sport or pursuit, such as boxing, engaging the interest of such a group.
transitive verb
fan·cied, fan·cy·ing, fan·cies
a. To have a liking or enthusiasm for: fancies sports cars.

b. To have a desire or inclination for: Would you fancy a cup of coffee?

c. To take a romantic interest in (someone): Do you think he fancies her?

To imagine or suppose: "I fancy she is an exceedingly proud woman" ( Jane Austen )
Origin of fancy
From
Middle English
fantsy
imagination, fantasy
from
fantasie
; see
fantasy
.
Related Forms:
---
fancy

---