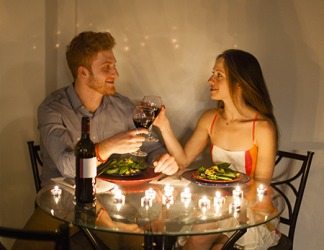 William invited his girlfriend over to his apartment for a candlelight dinner hoping to intensify the romance in their relationship.
adjective
The definition of romance is a language which originated from Latin.

Examples of a romance language are Spanish, French, Italian and Romanian.
noun
The definition of a romance is a love affair, an idealized love story or a showing of love.

An example of romance is the relationship between John Lennon and Yoko Ono.
---
romance
a long medieval narrative in verse or prose, orig. written in one of the Romance dialects, about the adventures of knights and other chivalric heroes
a fictitious tale of wonderful and extraordinary events, characterized by a nonrealistic and idealizing use of the imagination
a type of novel in which the emphasis is on love, adventure, etc.
the type of literature comprising such stories
excitement, love, and adventure of the kind found in such literature; romantic quality or spirit
the tendency to derive great pleasure from romantic adventures; romantic sentiment
an exaggeration or fabrication that has no real substance
a love affair

Music

a short, lyrical, usually sentimental piece, suggesting a love song
Origin of romance
Middle English from Old French
romanz
from
romanz (escrire)
, (to write) in Roman (i.e., the vernacular, not Latin) from Vulgar Latin
Romanice (scribere)
from Classical Latin
Romanicus,
Roman
intransitive verb
-·manced′

,

-·manc′ing
to make up false or exaggerated stories
to think or talk about romantic things

Informal

to make love; court; woo
to make love to; woo
to seek to gain the favor of, as by flattery; court
Romance
designating, of, or constituting any of the languages derived from Vulgar Latin, as Italian, Spanish, French, Portuguese, or Romanian
Origin of Romance
from obsolete French
(langue) romance,
Romance language from Old French
romanz:
see romance
these languages as a group
---
romance
noun
a. A love affair: His romance with her lasted only a month.

b. Ardent emotional attachment or involvement between people; love: They kept the romance alive in their marriage for 35 years.

c. A strong, sometimes short-lived attachment, fascination, or enthusiasm for something: a childhood romance with the sea.

A mysterious or fascinating quality or appeal, as of something adventurous, heroic, or strangely beautiful: "These fine old guns often have a romance clinging to them" ( Richard Jeffries )

a. A long medieval narrative in prose or verse that tells of the adventures and heroic exploits of chivalric heroes: an Arthurian romance.

b. A long fictitious tale of heroes and extraordinary or mysterious events, usually set in a distant time or place.

c. The class of literature constituted by such tales.

a. An artistic work, such as a novel, story, or film, that deals with sexual love, especially in an idealized form.

b. The class or style of such works.

A fictitiously embellished account or explanation: We have been given speculation and romance instead of the facts.
Music A lyrical, tender, usually sentimental song or short instrumental piece.
Romance The Romance languages.
adjective
Romance Of, relating to, or being any of the languages that developed from Latin, including Italian, French, Portuguese, Romanian, and Spanish.
verb
ro·manced, ro·manc·ing, ro·manc·es
verb
intransitive
To think or behave in a romantic manner: a couple romancing in the moonlight.
verb
transitive
a. To court, woo, or try to arouse the romantic interest of.

b. To have a love affair with.

To try to persuade, as with flattery or incentives: a candidate who romanced the party's delegates for votes.
Origin of romance
Middle English
from
Old French
romans
romance, work written in French
from
Vulgar Latin
rōmānicē (scrībere)
(to write) in the vernacular
from
Latin
Rōmānicus
Roman
from
Rōmānus
; see
Roman
.
Related Forms:
---
romance

Noun
(plural romances)
An intimate relationship between two people; a love affair.
A strong obsession or attachment for something or someone.
A mysterious, exciting, or fascinating quality.
An adventure, or series of extraordinary events, resembling those narrated in romances.

His life was a romance.

A dreamy, imaginative habit of mind; a disposition to ignore what is real.

a girl full of romance

(music) A romanza, or sentimental ballad.
Verb
(third-person singular simple present romances, present participle romancing, simple past and past participle romanced)
(intransitive) To write or tell romantic stories, poetry, letters, etc.
Origin
From Middle English romauns, roumance, from Anglo-Norman romanz, romant "˜in the vernacular' (vs. in Latin), from Medieval Latin rōmānicÄ", Vulgar Latin *rōmānicÄ" (adv.) "˜in the Roman language', from rōmānicus (adj.) "˜Roman', from rōmānus "˜a Roman'.
Noun
(uncountable)
The group of languages and cultures which are derived from Vulgar Latin.
---