noun
The definition of a flirt is a person who habitually behaves in a way designed to be attracting, interesting and engaging to someone in whom they have a romantic interest.

An example of a flirt is a guy who often behaves in a coy and suggestive manner to lots of girls.
verb
To flirt is defined as to behave in a way to be romantically appealing to someone or to dabble with an idea or with participating in something, but not commit.

An example of flirt is a girl who bats her eyes and who suggestively touches the arm of a guy, giggling at his jokes.
To flirt is to casually consider joining a club but not to every really commit.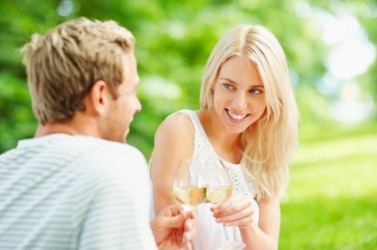 A woman flirts at a picnic.
---
flirt definition by Webster's New World
transitive verb
Now Rare

to toss or flick quickly
to move jerkily back and forth: the bird flirted its tail
Origin: earlier flert, flurt ; from uncertain or unknown; perhaps Old French fleureter, to touch lightly, literally , move from flower to flower ; from fleur, flower
intransitive verb
to move jerkily or unevenly
to pay amorous attention to someone without serious intentions or emotional commitment; play at love
to trifle or toy: to flirt with an idea
noun
a quick, jerky movement; flutter
a person who flirts with others
Webster's New World College Dictionary Copyright © 2010 by Wiley Publishing, Inc., Cleveland, Ohio. Used by arrangement with John Wiley & Sons, Inc.
---
flirt definition by American Heritage Dictionary
verb
flirt·ed
,
flirt·ing
,
flirts
verb
, intransitive
To make playfully romantic or sexual overtures.
To deal playfully, triflingly, or superficially with: flirt with danger.
To move abruptly or jerkily.
verb
, transitive
To toss or flip suddenly.
To move quickly.
noun
One given to flirting.
An abrupt jerking movement.
Origin: Origin unknown.
Related Forms: