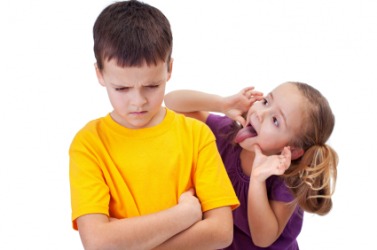 A girl jeers at her brother.
verb
To jeer is defined as to make fun of in a mean or mocking way.

An example of to jeer is a bully at school calling a classmate an orphan after their parents get divorced.
---
jeer
to make fun of (a person or thing) in a rude, sarcastic manner; mock; taunt; scoff (at)
Origin of jeer
uncertain or unknown; perhaps altered from cheer
a jeering cry or remark; sarcastic or derisive comment
---
jeer
verb
jeered, jeer·ing, jeers
verb
intransitive
To speak or shout derisively; mock.
verb
transitive
To abuse vocally; taunt: jeered the speaker off the stage.
noun
A scoffing or taunting remark or shout.
Origin of jeer
Origin unknown
Related Forms:
---
jeer

---